Comment: Please note that due to planetary/climate chaos increasing month by month, we can only show a limited selection of global events. Considering that these 'localized' events, multiplied many times over, are occurring simultaneously all over the planet, the scale of destruction and impact on people's lives becomes almost unimaginable.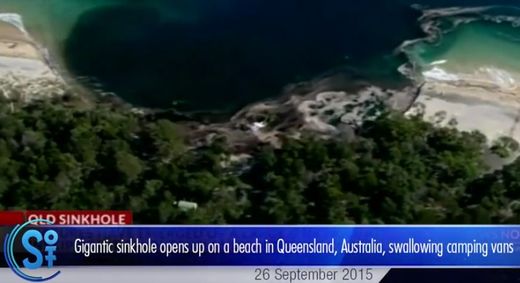 No matter the season or 'normal' climate, these days vehicles, homes and people are being washed away in deluges - the world over - on a regular basis. Forget "one month's average rainfall falling within hours" - last month, TWO MONTHS' average rainfall fell within a day and turned parts of southern Japan into inland seas. In the US, Utah experienced its worst ever flash-flooding, and the entire Eastern Seaboard was soaked with up to a foot of rain. This month, we also have clips of deluges in Spain, France, Italy, Greece, Turkey, Norway, Thailand, Taiwan, China, Sierra Leone, and New Zealand.
Violent volcanic eruptions in Japan, Mexico, Nicaragua, and Indonesia foreshadowed a massive 8.3 magnitude earthquake off Chile, which sent a 4.5 meter tsunami crashing into the coast and causing widespread damage. Hailstones the size of
footballs
fell in Naples, Italy. Brisbane, Australia, was buried in up to 4 inches (8cm) of hail, while a gigantic hole opened up on a nearby beach and swallowed a campsite. The rate of meteor fireball sightings continues to increase; in September there were spectacular sightings over Bangkok and Los Angeles.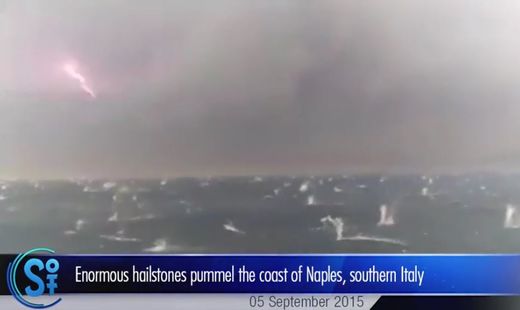 Wildfires continue burning up much of California, which last month saw its 'third-largest' wildfire in history as whole towns were consumed and tens of thousands of residents were forced to flee. The other major outbreak of wildfires on the planet in September occurred in Indonesia, from where a smoky haze enveloped much of southeast Asia for the second time in three years. 'Slash-and-burn' farming is being blamed, but the fires occur in peatlands that release lots of methane, leaving us wondering if the primary fuel source for these fires is coming up from below.
Extreme weather also hit the Middle East, which was engulfed in an 'unprecedented' sandstorm that stretched from Iraq to Cyprus and south to Saudi Arabia. A tragic and incredibly symbolic event occurred in the heart of Islam's 'holy city' on the 14th anniversary of the 9/11 attacks, when a powerful and unusual thunderstorm descended on Mecca and winds blew a large construction crane belonging to Bin Laden Construction onto the Grand Mosque. 111 people were killed and hundreds more injured.
These were the signs of the times in September 2015...
Watch it on
Sott.net's Vimeo channel
:
Music used: 'Escape from the Temple' by Per Kiilstofte. Licensed under Creative Commons Attribution 4.0 International
To understand what's going on, check out our book explaining how all these events are part of a natural climate shift, and why it's taking place now:
Earth Changes and the Human-Cosmic Connection
.
Check out previous installments in this series - now translated into multiple languages - and more videos from SOTT Media
here
,
here
, or
here
.
You can help us chronicle the Signs of the Times by sending video suggestions to sott@sott.net