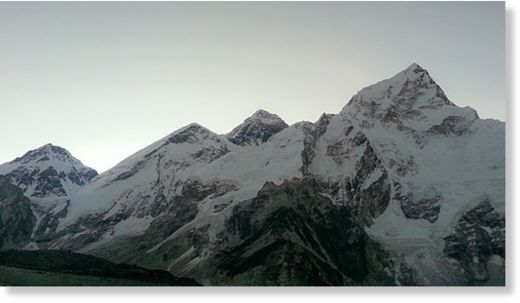 This year's only expedition to the top of Mount Everest fell short of reaching the mountain's peak due to heavy snow, meaning that no one will step foot on top of the world's tallest mountain this year.
Heavy snow has fallen around Mount Everest in Nepal's Himalaya Mountains over the past weeks and has made some parts of the climb too difficult to navigate, forcing many people to abandon their attempts at climbing Everest.
More than 2 feet of snow fell at Everest's base camp around the middle of September,
causing the conditions along the climbing routes to deteriorate and Sherpas to work on clearing the routes before climbers could trek up the mountain.
Nobukazu Kuriki was the only person who was attempting to climb to the top of the 29,029-foot (8,848-m) peak this fall following the feet of snow, but he was forced to turn around last weekend due to the abundance of snow.
"I left the final camp a little after 8pm on 26th for summit push," Kuriki wrote on his Facebook page. "I tried hard taking all my energy, but it took too much time to move in deep, deep snow."
Climbers have two windows of opportunity during the year to attempt to summit Mount Everest, both of which are heavily dependent on the weather.
The first window of opportunity occurs in the spring, typically during the month of May after the bitter cold and harsh winds of winter let up, but before the onset of the monsoon.
The monsoon is a seasonal weather phenomenon where an influx of moisture brings an increase in precipitation. In the case of Mount Everest, the increase of moisture delivers more snow over the mountain than during any other part of the year.
Unfortunately, climbers were not able to take advantage of this window this year due to the powerful earthquake that devastated Nepal in April and caused a deadly avalanche that swept through Everest's base camp.
The second window of opportunity occurs in the fall, typically during the month of September when the monsoon begins to let up and before the harsh winter weather sets in.
This second window was almost non-existent this year due to the late departure of the monsoon over eastern Nepal.
Nepal's Department of Hydrology and Meteorology announced on Tuesday that this year's monsoon has been slower than normal to depart and is expected to last over the Mount Everest region until the first few days of October. In a more typical pattern, the monsoon in Nepal ends on Sept. 23.