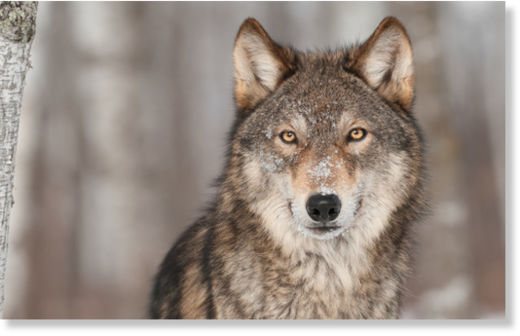 Wolves have
killed four large dogs
and injured another at cottage communities north of Winnipeg in the past two weeks, prompting a warning to pet owners in the area to keep their animals indoors.
Two dogs were killed in Hillside Beach and the third was killed in Albert Beach, said Victoria Beach Police Chief Stewart MacPherson, adding the latter dog was a malamute and the attack was "particularly severe."

"The dog was literally torn into pieces and a piece was found over here and another piece over here type thing. They really went to town on that dog,"
said MacPherson.
MacPherson said it appears there are three or four wolves attacking dogs, and they're quite cunning. They send a female wolf to play with a male dog, then the male wolves swarm.
Dogs lured off property, owner says
Lyall Trainor's German shepherd, Baron, was killed a week ago Friday on his property in Traverse Bay, bringing the number of killings to four.
"It's pretty sickening that a timberwolf got our dog, of course," Trainor said. "Our whole family is pretty bummed out about it."
Trainor said a wolf tore apart the five-year-old family pet after he was lured away from the family home.
"They'll play like dogs, trying to lure the dogs towards them," said Trainor. "Both of our dogs held their ground and stayed by the house that night, but it was a moonlit night, and I could see the wolves jumping around out there trying to get them out of the yard. As soon as they're out of the yard, that's when they'll get them."
Trainor said he wants something done about it.
"When is it going to end, right? Once [the wolf] gets rid of our dogs, well, he's just going to carry on and get other dogs in the area and cats and whatever else," he said. "It's pretty sickening that that timber wolf got [our dog.]"
MacPherson said the wolves attacking pets are quite large. He recently saw a white wolf he initially thought was a deer, it was so tall.
MacPherson said local officials have warned people about their small dogs in the past,
but the dogs being attacked now are large breeds
that are often tied up in yards.
Dog-owner Sally Lawler said she's keeping her dog on a leash because of the reports.
"He's kind of a dumb old guy, and we worry about him - that maybe he'll be stupid enough to go near a wolf and say, 'You want to play?'" said Lawler.
Manitoba Trappers Association contracted to catch wolves
The province's Department of Natural Resources has contracted the Manitoba Trappers Association for help in catching the wolves.
Barry Verbiwski, the province's head of fur-bearer and human wildlife conflict management, said the wolves have moved in because deer are plentiful in the area.
"There's always been wolves moving through, but we think what's happened now is that these wolves have set up a bit of a territory, and what they're doing is trying to remove any of the competition for the food source which is big dogs," Verbiwski said. "I think the first killed was a Husky, and then a great Pyrenees and then a malamute, and then the most recent attack was the other night on two German shepherds."
So far the wolves have stayed away from humans, but Verbiwski warned people to keep an eye on their children as well as pets to be safe.​
Albert and Hillside beaches are about 100 kilometres northeast of Winnipeg, on the eastern shore of Lake Winnipeg.