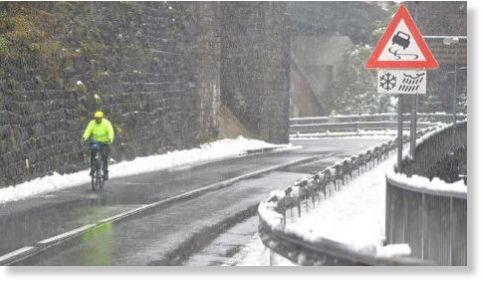 After a summer of record high temperatures winter has already arrived in some parts of Austria -
with the Grossglockner alpine road in the state of Salzburg closed on Thursday for safety reasons after snowfall.
"We've had 50 centimetres of snow. Between the Fuscher Törl and the Hochtor, there are snow drifts of up to two meters," deputy police superintendent Peter Embacher said. "We have three snowploughs and two snow blowers on the go
. We hope that today we can clear all the snow and reopen the road by Friday," he added.
The spa town of Bad Gastein also saw snow, and the road to Sportgastein had to be closed on Wednesday, after 40 centimetres of fresh snow. On Thursday morning drivers were told to use snow chains on the B99 road.
The Central Institute for Meteorology and Geodynamics (ZAMG) said more snow could be expected in mountainous areas in Salzburg during Thursday but that the weather should start to improve on Friday. Maximum temperatures on Thursday were between eight and 15C.
Mountain areas in Upper Styria also saw their first major snowfall, with up to 15 centimetres on the peaks of ski areas Enns and Murtal. Some of the slopes in the valley also got a dusting.
Minor traffic delays were reported on mountain roads in Styria and the Sölkpass between the Enns and Mur valleys had to be closed, according to the ÖAMTC Schladming.