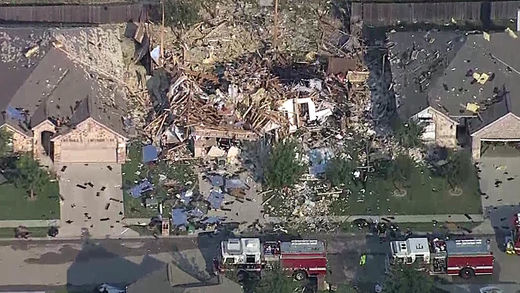 Two people are being treated for severe burns after their North Texas home was leveled by an incredible explosion early Monday morning.
Waxahachie firefighters arrived at the home on the 100 block of Arabian Road at about 8 a.m. after neighbors called 911 to report the devastation.
Meanwhile, residents in the Saddlebrook Estates rushed to the flattened home to help free the residents, a woman and her adult special needs brother, who were trapped inside.
"I took off running down the street. About that time I saw somebody carrying a gentleman out of the house," said neighbor Robert Denton.
The explosion leveled most of the home, leaving only a small portion of the wood frame intact.
Much of the home collapsed upon the foundation, though thousands of pieces of roofing debris and other building material were seen strewn across several nearby properties.
As many as nine other homes were reportedly damaged by the blast.
The woman trapped inside, whose name has not yet been released, was calling for help from beneath the splintered pieces of wood that only moments before held up the roof and walls of her home.
Denton and several others rushed in to try to free the woman.
"I'm never going to get that visual out of my head. She was completely burned, skin melted off, face swollen — just, it was bad," Denton said. "The whole time we were trying to help her out we smelled gas. Like, I said, there's still a major leak and a couple fires still going on. She kept saying, 'Please get my brother out. Please get my brother out.' But by then he was already out."
The woman and her brother suffered serious burns and were airlifted to Parkland Memorial Hospital in Dallas after being freed by neighbors.
Residents in the area told NBC 5
the explosion shook their homes and sounded like a bomb
.
"I was like, four houses away from her house when it exploded ... you heard the explosion, the ground shook, smoke and debris was flying everywhere across the street," said JoAnn Williams. "It was over in a matter of 2, 3, maybe 4 seconds."
Neighbors told NBC 5 Monday morning they had previously reported problems with the gas lines. The Waxahachie fire chief said Monday afternoon Atmos fixed a gas leak in the neighborhood on Friday, though he didn't think it was related to Monday's explosion.
As of Monday afternoon, there is still no confirmation on what caused the explosion, but officials with Atmos Energy are working closely with Waxahachie firefighters to determine if there was a leak.
"First and foremost our thoughts are with the families affected by today's incident. We want to express our sincere concern," said Jennifer Altieri, Atmos Energy spokeswoman. "As part of normal operating procedures when Atmos Energy is called to the scene of an incident, we work closely with our first responders to make the area safe and then conduct leak surveys in the area to identify if gas was involved. At this point it is too soon to tell what caused this incident."
The Salvation Army and American Red Cross are both at the scene and will assist all of the residents impacted by the explosion.
The residents of 10 homes were instructed to leave their homes until they were deemed safe, according to the American Red Cross. After 11 a.m., some residents were allowed to walk back to their homes but were asked to keep their cars out of the neighborhood for the time being.
Candace Ahlfinger, spokeswoman for the Waxahachie Independent School District, confirmed to NBC 5 that no students or teachers lived in the home and that everyone at the nearest school, Clift Elementary School, was safe.
"We have students who go there who live in that area," Ahlfinger said. "Everyone is fine. No evacuations. There hasn't even been discussion of that."
Ahlfinger added that the explosion could be heard and felt several miles away.
"My husband called me, and we live 10 miles away. It was very strong," Ahfinger said.
Down the street from the scene of the blast, neighbors gathered for a prayer vigil Monday evening.
"We are so grateful, God, that you have looked over that family," said Karen Albert. "If this would have happened on a Sunday when families were home, the casualties would have been tremendous."