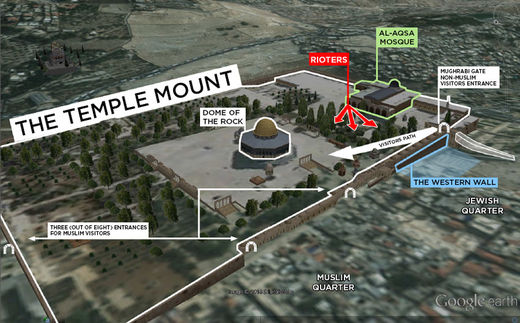 On Friday afternoon prayers one Palestinian was shot by Israeli forces, and two Israeli police were injured in clashes across Jerusalem, amid a week of upheaval centering around al-Aqsa Mosque. In preparation for a call from Hamas for a "day of rage,"
Israeli police deployed 5,000 forces around Jerusalem and limited access to the Muslim holy sites by age
. By evening Israel's parliament approved drafting army reservists to street patrols, a signal of continuing strife.
"If they use violence we will hunt them and we will increase measures,"
Jerusalem's mayor Nir Barkat said yesterday. This followed Prime Minister Benjamin Netanyahu's
announcement
that police would begin using live-fire for crowd control in Jerusalem, "to make sure terrorists will not gain what they want to gain."
"Their strategic aim is to prevent religious freedom - when I say religious freedom I mean even the right of Jews to visit quietly," Barkat said.
"Our job now is to cool things down, to return security," he said.
Foreign Minister Director-General Dore Gold spoke alongside Barkat at a meeting with journalists and said that Palestinian demonstrations at al-Aqsa did not take place spontaneously. "There is an orchestration in play here," he said. "Unfortunately the Palestinian Authority has also been swept into this violence."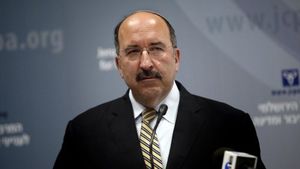 Gold also cited Hamas and the Islamic movement of Northern Israel as responsible for revving up Palestinians to clash with Israeli police in the religious compound.
Gold slammed Palestinian Liberation Organization head
Saeb Erekat for saying
two days ago that Israel is undertaking "attempts at turning Jerusalem into an exclusively Jewish city." Gold said:
"If you start spreading rumors that Israel wants to fundamentally change the status quo or make Jerusalem like Hebron [you] therefore put fear in the hearts of many Muslims,"
The center of Hebron has been taken over by religious Jewish settlers; and the Ibrahimi Mosque, or Cave of the Patriarchs, is split between Palestinian and Israeli use.
Yet Palestinians say the current uptick in clashes is a result of Israel allowing nationalists who seek the construction of a Jewish temple on the site into the holy complex. They dispute claims that organized groups are behind the clashes between Palestinian teens and Israeli police.
"Israeli attempts at changing Jerusalem's status quo will be met with more Palestinian steadfastness on the ground, including legal and political efforts to end Israel's culture of impunity," Erekat said.
Under an agreement made after the 1967 war, people of all faiths can enter the Noble Sanctuary, or Haram al-Sharif, the plaza that houses the Muslim holy sites - the Dome of the Rock and the al-Aqsa Mosque. The Jordanian Waqf administers the site, but Israeli border police control the entrances to the compound. Around 11,000 Jews and nearly 4 million others of all religious backgrounds visit the religious compound annually. Under the post-war negotiation, Jews are forbidden to pray within the plaza. Yet a growing movement of right-wing politicians is trying to
challenge that policy.
The compound also includes the Temple Mount, an area where the first and second Jewish temples are said to have stood, and is one of Judaism's most revered sites.
In recent years the number of right-wing Israelis entering through the tourist gate have sharply increased.
Israeli police reported
at the beginning of the year Jewish visitors are up 92 percent from 2009. Palestinians see their presence, and their Israeli police escorts, as an infringement on the decades-long accord to maintain Muslim authority inside the compound.
Moreover for Palestinians, the use of live-fire in and around the Noble Sanctuary is viewed as an escalation and a reminder of former Prime Minster Ariel Sharon's visit in 2000 that sparked the second Intifada. While Sharon did not pray at the site, he arrived with a team of Israeli police. The following day clashes broke out and seven were killed by live fire, thus initiating the Palestinian uprising.
Israeli Prime Minister Benjamin Netanyahu announced on Tuesday he would relax the use of live fire in Jerusalem, to permit sniper-fire. His orders spurred calls for Palestinian
demonstrations against Israeli police
firing dispersants into the mosque during clashes.
"We will use all necessary measures to fight against those who throw stones, firebombs, pipebombs and fireworks in order to attack civilians and police," Netanyahu said Tuesday after a meeting with security officials. Increased punitive fines for minors who throw stones, and for their parents, are other enforcement measures, the prime minister's office stated.
The Israeli human rights group B'Tselem reports that 20 Palestinians have been killed by Israeli forces with live fire since the beginning of the year. Three were killed while throwing stones in the occupied West Bank in instances where the soldiers were not under lethal threat and fired shots as a crowd control mechanism, B'Tselem said.