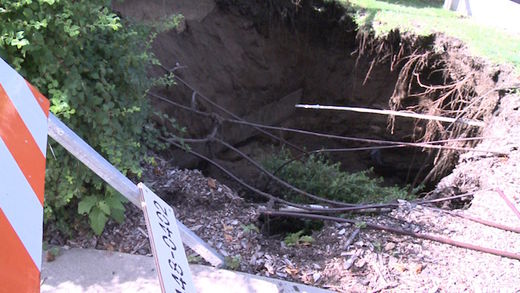 A sinkhole along the 1st Street Bridge opened up and injured a man walking in the area.
The sinkhole was caused by a failing storm water pipe. Recent rainfall washed away the soil underground and caused the surface soil to give way.
There has been a sinkhole in the area for a few weeks related the the pipe. The second sinkhole appeared about 50 feet away from the original.
The man was walking along the grass when he says the ground gave way.
"I stepped and I felt the ground get weak and the next thing I knew I was about 15 feet down in a hole. I had to dig myself out of there, no one around me to help me or anything," he said.
He suffered what appears to be a sprained ankle.
The city says they are working to get the pipe fixed. It is estimated to cost between $50,000 and $100,000.
Meanwhile, the department of Public Works & Utilities says that the street was not impacted by the sinkhole but the sidewalk is ruined; a 40-foot tall street light has had its foundation damaged and the city is removing it to keep it from falling onto traffic along First Street. The city has put up more signs and completely fenced off the area to keep people out.