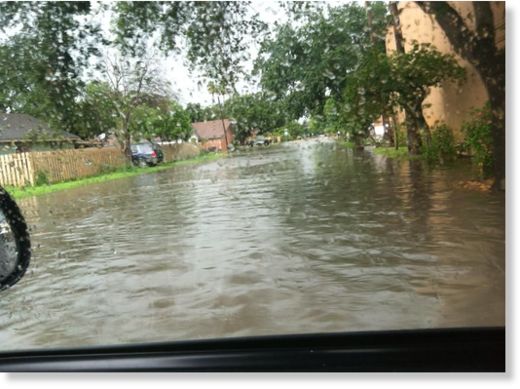 Felipe Ayala Jr. said he was cooking hot dogs Friday afternoon when the water started seeping through the walls.
More floodwater crept onto the floor. And when he opened the door, brown water and garbage spilled in.
"It was like a swamp," the 42-year-old said at an emergency shelter Friday evening. "There was trash everywhere."
Ayala has lived at the house along Cypress Drive in a neighborhood just south of Iowa Road in Edinburg for about the past two weeks — a period with several days of localized torrential rainfall that seemingly reached a new apogee Friday afternoon.
As much as six inches fell in less than three hours, prompting evacuations and road closures in east Edinburg and the surrounding colonias, including San Carlos, where the Federal Emergency Management Agency had been set to survey already damaged properties.
"Obviously, we've been at this for about five weeks," said Hidalgo County Precinct 4 Commissioner Joseph Palacios. "People's safety comes first."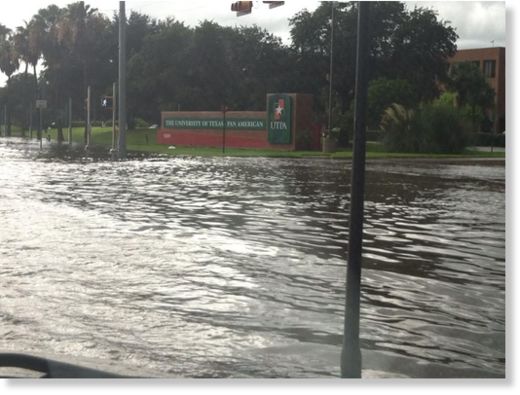 The Red Cross set up a shelter Friday evening at First Baptist Church, 201 E. Samano St., where Ayala and his relatives alongside one other family had relocated. Others in his neighborhood stayed behind, he said, plucking garbage from clogged storm drains.
Eddie Olivarez, who heads the Hidalgo County Health Department, said sanitation and hygiene were immediate needs that his employees were working to address Friday night.
And with more rain forecast for today and Sunday, officials kept a tenuous tone for what bodes for the weekend — beyond the time it will take to remove floodwaters from areas with poor drainage. Widespread flooding prompted Edinburg officials to activate its emergency operations center Friday evening.
"This is an event that's going to last several days," Olivarez said. "It's not going away anytime soon."
The National Weather Service issued a flood warning that had been set to expire at 4:15 a.m. today along and east of the Expressway 281 corridor north of Pharr and Alamo, stretching into Edinburg's eastern side and northeast to Monte Alto.
Officials reported evacuating 11 families from a colonia near Tower and Minnesota roads.
Stalled cars dotted many area streets and roadways, which were shuttered with between six and 18 inches of water flooding the way.
Many thoroughfares in Edinburg were under water as a result of the torrential downpours, with a home and business reportedly flooded at Sugar Road and University Drive near the University of Texas-Pan American campus.
"The rain's pretty much over, but the area's still going to see flooding until the water drains off there," Brian Miller, a meteorologist with the National Weather Service in Brownsville, said of the Friday afternoon downpours.
A 40 percent chance of showers and thunderstorms remains in the forecast for this afternoon. Red Cross officials at the shelter said they'd been told that Friday was supposed to be dry and had been anticipating heavier rains today and Sunday, but the forecast apparently was wrong.
Ayala said he managed to take his mattresses that were on the floor atop a dresser so they wouldn't be ruined in the floodwater, six inches of which filled his home when he left.
He lives there with his brother, girlfriend and her two children.
Left behind were his two dogs. He said he hopes they managed to climb atop the mattresses, so they could stay dry until he goes home.
"That's just life," Ayala said.