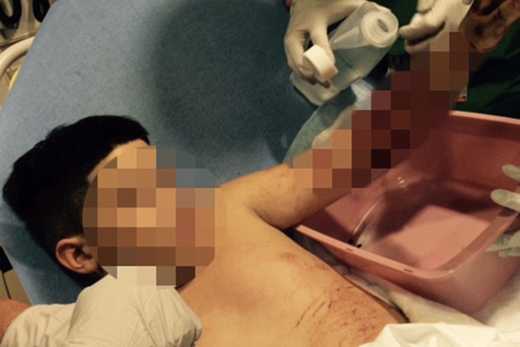 Orlando police recently let trained, police attack dogs loose on a boy that is only 12 years old. Officers said that this attack was justifiable since the boy was allegedly "trying to break into Shingle Creek Elementary School."
Police arrived on scene and told the boy as well as two suspects to stop. Two of them reportedly complied, but the third did not.
The police then set the dog loose onto the boy, allowing the dog to violently attack him, leaving him with bite marks all over his body.
The attorney for the boy's family says that this is a clear-cut case of police "excessive force."
The boy ended up spending two days in hospital and now has to visit the doctor every week.
Because he is underage, the youth has not been named. What the police would tell us is that he was allegedly breaking into Shingle Creek Elementary School in Orange County, on June 4.
But his family is now taking legal action against Orlando Police Department, saying that they will be the ones who have to answer for police brutality in court.
Bradley Laurent, an attorney representing the youth, who turned 13 just last Friday, said "it almost looked like [the boy] was attacked by a bear".
Officers claim that when they arrived on scene at approximately 10.30 pm, they saw the three boys "trying to break in" to the school.
The police seem to think that dogs can be used as weapons against children who do not immediately comply with police orders to surrender.
Laurent explained that, "No matter what they were doing in terms of being on the property, that didn't warrant harming anyone."
A police report obtained by Mynews13.com states that there were several officers on the scene, responding to the alleged burglary. What the intentions of the children were is still unknown.
Laurent told Myfoxorlando that, "we know that from the witnesses who were there and the client himself, these kids did take off running, and the minute they realized, 'Oh, these are law enforcement officers who are actually trying to stop us,' they stopped."
"I would imagine that they have enough training to restrain a 12-year-old. I don't see why it would be necessary to release a dog. A dog that you know is going to cause some serious injury,"
he added.
According to WFTV channel 9 the boy's injuries were so severe he spent two days in hospital and had to have stitches.
Orlando police Deputy Chief Eric Smith said in an interview with the local paper,
The Sentinel
that the department "tends not to use police dogs on children aged 12 or under."
Smith said further that, "we give them a total warning. We tell them there's a dog there and that they may get bit before we release the dog.
"And usually their reaction determines the outcome from there. If you turn and run then the dog will be released. If you turn around and surrender then the dog will not be released."
That seemed to justify it to Deputy Chief Smith. So in his mind, if the officers warned that they would shoot him, this too would have been justified if he did not heed (or hear) the command.
This is not the only such case against the Orlando Police Department. Laurent says he is currently handling two other cases against them, which also involve violent police canine attacks.