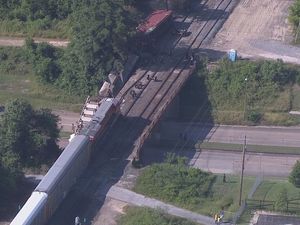 After a day of clean up after a train derailed along Old Katy Road, officials said the road should be reopened by Friday morning.
The incident happened around 8:30 a.m. near Washington Avenue, just north of the Katy Freeway.
According to a spokesman Jeff Degraff with Union Pacific, which runs the tracks, the Kansas City Southern train traveling from Beaumont was heading west on its way to Kendleton when the derailment happened at the Eureka Junction.
A total of nine cars and a locomotive came off the tracks. Two of the cars fell off the overpass.
The spokesman said that the cars that fell contained soy bean and plastic pellets. No hazardous materials were present.
There was a two-man crew, a conductor and an engineer, operating the train when it derailed. No injuries were reported.
Officials said this train had two locomotives - one at the front with the crew and a second in the middle to help stabilize the train. It was the second unmanned locomotive that derailed.
Nobody was driving underneath the bridge when this train jumped the tracks, but KHOU 11 News heard from plenty of folks who feel fortunate because they had just passed by.
"We are just blessed to know nobody was injured either from our company or the public," Danny Uhyrek, who works nearby, said.
At this time there are crews from both Union Pacific and Kansas City Southern working to offload the product before they can upright the cars.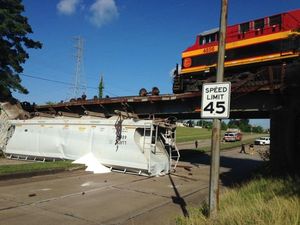 The spokesman explained that it is a lengthy process and would several hours. The railroad was also damaged during the accident and will have to be cut and replaced.
Both tracks will remain closed until the repairs are completed.
Officials could not give an exact time when the roadway would be reopened.
At this time, officials are not sure what cause the derailment.
"I am unsure of the specifics of exactly how the derailment occurred and the actions of the crew," Degraff said. "That investigation has already started, but it will take some time, we are in the process of downloading the information from both locomotives."
Once that is completed, officials say they should have a good idea of what happened and will report the findings to the Federal Railroad Commission.