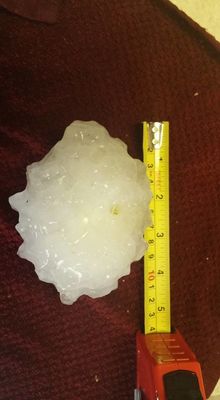 As storms passed over the region, one of them found its way over Minooka and dumped giant balls of hail over the village, according to a
public information statement
from the National Weather Service and several photos that popped up on Facebook showing the hail.
"There were multiple reports of hail up to 4.25 inches in diameter," the statement said. "Some of this hail caused severe damage to vehicle windshields."
National Weather Service Meteorologist Andy Krein said for hail to reach this size, you need a strong updraft in the thunderstorm itself.
"That's the vertical motion that is holding the hailstone aloft and in an environment that is conducive to the growth of the ice around it," Krein said. "That would be in the range where temperatures are between 0 celsius and minus 20 celsius. The updraft would have to be strong enough to suspend that big chunk of ice that high in the atmosphere."
According to the NWS statement,
this was the second largest hail in northeast and north central Illinois
. The only known instance of larger hail was on April 23, 1961 when 6 inch diameter hail was reported in Kankakee County.
Besides the instance in 1961, there was one other occasion where hail above a 4 inch diameter was reported and that was June 14, 2010 when 4.25 inch hail occurred in Boswell of Benton County, Indiana, according to the NWS statement.
The hail from June 10's storm was the largest hail in the state of Illinois since April 28, 2012 when 4.5 inch diameter hail was reported in Okawville in Washington County.
Since 2005,
hail of this size is reported about 35 to 40 times a year in the US. However, most of those reports are from the plains states
.