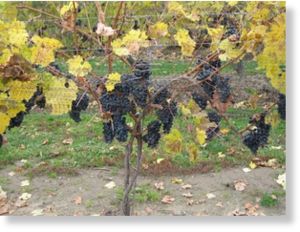 The 2015 vintages from some southern Ontario wineries may be somewhat rarer than usual.
Vineyard owners in Prince Edward County and the Niagara region are assessing the damage from a record-breaking plunge into cold weather late Friday night and into Saturday morning.
Farmers were sent scrambling to prevent frost from killing their fruit. They rented helicopters, turned on wind machines and set bales of hay on fire in an attempt to save what they could.
Some smaller wineries say their crop was practically gutted in the deep-freeze.
Clark Tyler, manager at Harwood Estate Vineyards in Prince Edward County, estimates that a mere five per cent of grapes at his four-hectare vineyard survived the frost.
"It's just complete and utter devistation, anger and just makes me feel really upset," said Tyler.

He said some of his friends lost nearly everything.
However, some farmers are hoping for a stroke of luck.
Liz Dobson Lacey, sales manager at Lacey Estates in Prince Edward County, says it will take another several weeks to assess the damage to her grape crop.
"This year was looking like a really great year and in less than six hours that was really taken away," said Lacey.
There's a chance of a secondary bud emerging on the damaged vines, and if it survived the frost, the bud could save the crop. But there are no guarantees.
If the buds don't appear, the grape shortage could affect next year's wine selection.
Small family owned wineries now face the biggest challenge of deciding whether the financial impact of bad weather outweighs the expense of fighting it.
Environment Canada says temperatures near Prince Edward County fell to lows Friday and Saturday that haven't been seen on those dates since before 1935, when it began keeping records in the area.