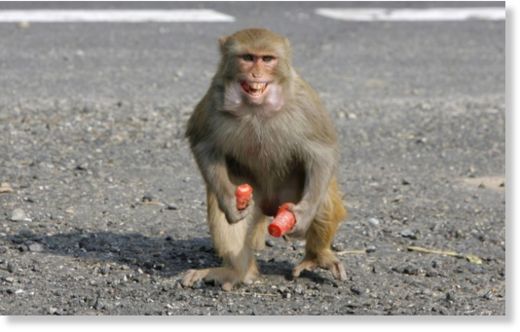 A four-year-old disabled boy was reportedly killed by a monkey in Ghaziabad on Thursday, 7 May.
The deceased, Mohan, was playing with his brothers, Golu, 6, Srikant, 6, and Sohan, 4,
at their home when the mishap happened
in the afternoon.
However, when the incident occurred none of the elders were at home and he breathed his last on the way to hospital.
"
The monkey appeared out of nowhere and attacked me and chased my brothers. We all ran outside to save ourselves but Mohan could not. The animal managed to push open the door of the room where Mohan was present. He then grabbed his neck and choked him.
I ran out and called my grandmother for help. But to no avail," Golu said, according to the
Hindustan Times.
According to the neighbours,
the monkey even tried to enter the house thrice after the attack.
Monkey strangulates 4-year-old differently-abled boy to death in Ghaziabad http://t.co/LkuKV50rJt pic.twitter.com/ulXq6d8Jb2

— Hindustan Times (@htTweets) May 8, 2015
Similarly, last year, a six-week-old baby was also killed by a monkey, who escaped from a zoo in Crimea. The animal had torn the child into pieces and was thrown out of the pram.