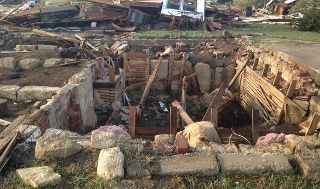 Escorted by her son, Charmaine Foraker walked out to the field where her childhood house was now strewn in pieces to the northeast of Mount Hope.
Family members hugged her as she surveyed the bits of the roughly 100-year-old farmhouse that was destroyed by a tornado Wednesday afternoon.
A tornado spawned at around 4:30 p.m. Wednesday north of Mount Hope, northwest of Wichita, destroying at least three buildings before lifting about 45 minutes later near Burrton.
The farmhouse, a modular home and a garage were destroyed near 247th and 117th streets northeast of Mount Hope.
Craig Foraker lived in the modular home with his wife and 17-year-old son. The son was alone in the modular home when the tornado came through.
He was taken to Newton Medical Center to be examined for minor injuries, Craig Foraker said. As of 7 p.m., the hospital had no record of the boy being admitted.
Inside the garage sat an old restored Ford Model A car, which was damaged but likely salvageable.
The tornado grew from a weak rope to a healthy stovepipe in just a matter of minutes, storm chaser Jim Reed said. He noticed debris in the sky, he said, but he did not know where the debris came from.
More storms could possibly hit the area from the southwest as the night goes on, according to the Storm Prediction Center.
In southern Kansas, storms will be scattered. But conditions are "very favorable for very large hail and tornadoes with any storms that form," the center said.
A tornado warning for Sedgwick County has been canceled.
The county is still under a tornado watch until 2 a.m. Thursday.