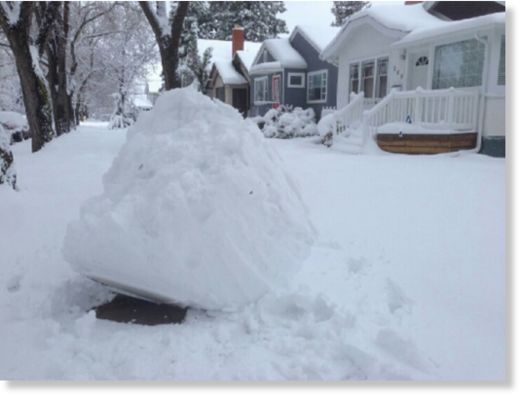 Residents experience power outages, dig out from 30 centimeters of snow
Power has been restored for most of Saskatoon and city crews were out in force clearing streets following
this weekend's record-breaking snowfall.
Saskatoon received 30 centimeters (12 inches) of snow, the most of any region between Outlook and Melfort that saw snow over the weekend. The previous records for April 25 and 26 were 9.4 centimeters in 1954 and 7.6 centimeters in 1945 respectively.
Power Outages
Heavy wet snow caused homes, businesses and traffic lights in 20 neighbourhoods across the city to lose power over the weekend.
On Saturday, the City of Saskatoon twitter account said there was an issue with the power supply for seven sub-stations, which affected west side neighbourhoods within Circle Drive. The substations were brought back online at 6:35 p.m. restoring power to many neighbourhoods.
By 4:20 a.m. Sunday morning, snow covered branches and power lines caused more power outages throughout the city.
The outage also knocked out the city's website, phone lines and service alert system (SAS) — a system that notifies residents via text and email of emergencies, power outages, and other situations across the city. The city website came back online at 9 p.m. but during that time Saskatoon Light and Power was unable to issue service alerts.
Communications manager Carla Blumers said the city will work to install more backups for when the SAS goes down.
Brendan Lemke with Saskatoon Light and Power said the final major outage was repaired around noon Sunday. He said crews were moving to secondary locations to service individual homes with power issues and should be done before the end of the day.
Anyone with issues of tree branches on power lines or outages can contact the city at 306-975-2621
Lemke said crews are unsure why the city's main transmission station and seven sub-stations went down Saturday, but he said they did see the lines galloping.
"(Galloping) means there's enough build up of ice and snow on a line where it acts like the airfoil or a wing of an airplane and it actually will start to lift as the wind blows across it. So the lines start to move and they can get too close together and then cause an outage that was," Lemke said, adding crews also saw an insulating material covered in ice and snow that showed signs of arching electricity.
The city did not know the exact number of houses affected by the outage.