The U.S. Geological Survey says a magnitude 6.1 earthquake has struck near the Greek island Crete Thursday.
The USGS reports the quake's epicenter was located 29 miles (47 kilometers) northeast of Karpathos, Greece at a depth of 20.9 kilometers. The quake hit at 11:07 a.m. PDT, 9:07 p.m. local time.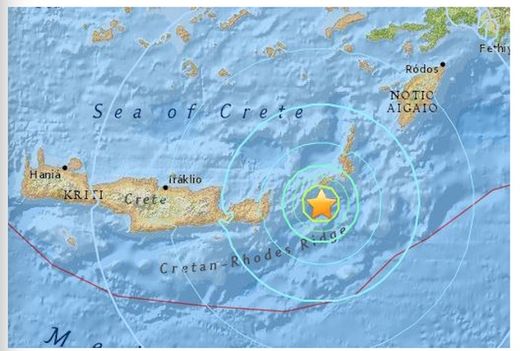 The Athens Geodynamic Institute said the quake was felt on the islands of Crete, Karpathos and Rhodes.
The highest rates of earthquake activity in the Mediterranean region are found along the southern part Greece, along the North Anatolian Fault Zone of western Turkey and the Calabrian zone of southern Italy.
Strong earthquakes with an epicenter off the coast can trigger tsunamis, depending on the size and type of the fault movement. The Pacific Tsunami Warning Center tracks earthquake data for the West Coast.