Small earthquake swarms occurred at shallow depths during the past days near the volcano. The quakes were located approx. 6-10 km south of Hekla volcano and at shallow depths around 5 km.
The largest quakes were two magnitude 2.6 events at 4 km depth on Thursday (9 April). It is impossible to say whether the earthquakes are linked to volcanic activity and thus might be precursors of a new eruption, but Hekla is probably the most likely candidate volcano for the next eruption to occur on Iceland.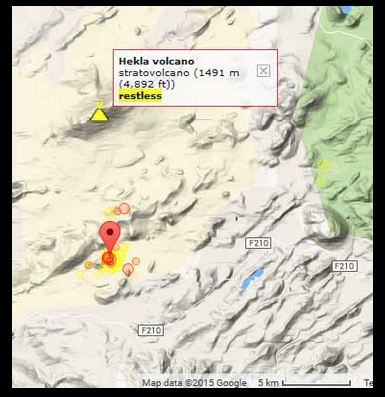 One of the country's most active, and the most frequently erupting volcano, Hekla has been believed to be "due" and have its magma chamber filled for several years now. Known for not giving much precursory signals (and only few earthquakes), an eruption would not be a surprise at all.
Kliuchevskoi (Kamchatka)
: After less than two weeks pause, the volcano started to erupt again - mild strombolian explosions at the summit crater and small ash emissions.
KVERT raised the alert level again to yellow and noted that seismic activity has also shown an increase recently.