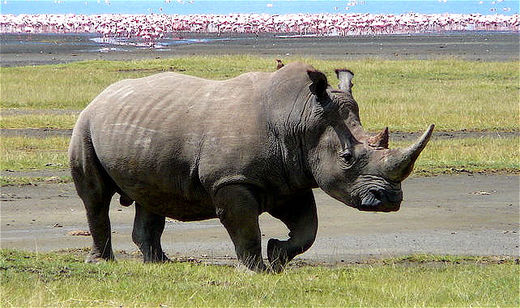 A female rhino injured a forest guard and broke the rifle he was carrying during the ongoing rhino census at Kaziranga National Park's Bagori forest range on Wednesday.
The guard, Paresh Bowri, was a mahout with the forest department.
Bowri fell down from the elephant he was riding after the rhino, accompanied by a calf, chased the jumbo. The elephant took fright and tried to flee, dislodging Bowri in the process
.
Bowri fired in the air, but failed to scare the rhino. It rushed at him and bit his leg.
The rhino also broke the rifle in half after the weapon fell from Bowri's hand. The animal left the spot only after other forest personnel came to Bowri's rescue.
Bowri also suffered a fracture in his left arm.
"We rushed Bowri to a hospital in Jorhat. Doctors say he is out of danger," Kaziranga divisional forest officer S K Seal Sarma said.
Experts said a rhino with a calf is more likely to be aggressive as its protective instincts kick in. Park officials said the census operation is always associated with danger and officials are vulnerable to animal attacks while scouring the jungles.
"We maintain utmost precaution and follow animal behaviour very closely. But there is no guarantee of safety. Census work is one of the most important operations in Kaziranga as the park has other big animals like tigers, elephants and wild buffaloes," a park official said.
The rhino census kicked off at Kaziranga, a World Heritage Site about 250 km from here, from Tuesday and will continue till Friday. Jungle safaris have been temporarily suspended during the census operation.
Over 200 forest officials and representatives of various conservation NGOs are involved in the operation across five ranges of the park — Kohora, Bagori, Burapahar, Agoratoli and Biswanath Ghat.
The rhino census is conducted every three years. In the last census, in 2012, Kaziranga recorded 2,290 rhinos. However, a special census in 2013 showed the number of rhinos had risen to 2,329.