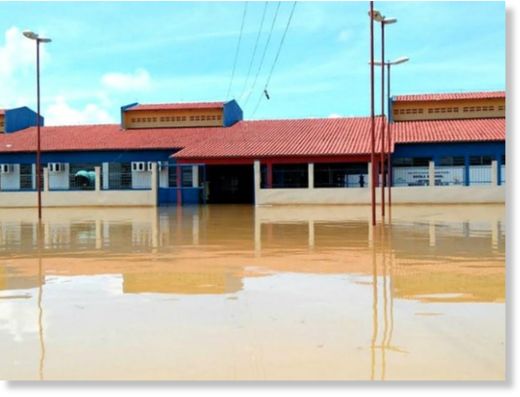 More than 20,000 people have been affected by flooding caused by the swollen Purus River in Boca do Acre in Amazonas State, Brazil.
Defesa Civil Amazonas (Amazonas state civil defense) have distributed more than 36 tons of humanitarian aid to flood victims, which includes food, medicine, bedding, mosquito nets, drinking water, and water filters.
"We ... are working on the needs of the population and municipal deficiencies caused by this natural disaster," said the Secretary of Defesa Civil Amazonas, Colonel Roberto Rocha.
At least 70 families have been forced from their homes and are being housed in emergency tents. Authorities say that 8 out of the 9 local districts have been affected. Defesa Civil Amazonas reported that the city's water treatment plant has been damaged in the floods. Maize and banana crops have also been flooded.
Boca do Acre is a small municipality of around 30,000 people, located at the meeting point of the Purus and Acre rivers.
Earlier this month, high levels of the Acre River caused severe flooding in several locations in Acre state - in particular the city of Rio Branco where the river reached record levels - and later parts of Amazonas state.
Amazonas State
WMO report that 100mm of rain fell in 24 hours in São Gabriel da Cachoeira in Amazonas state. Heavy rain has been falling across the region over the last 4 days.
More heavy rainfall could mean increased levels of the Purus and Juruá rivers further affecting parts of Amazonas state. Some of these areas suffered from flooding earlier this month. Defesa Civil Amazonas say that Itamarati, Guajará, Ipixuna, Eirunepé, Envira (Juruá river) and além de Canutama, Tapauá, Carauari, Pauiní, Humaitá (Purus river) are all in "emergency situations" (Situação de Emergência).