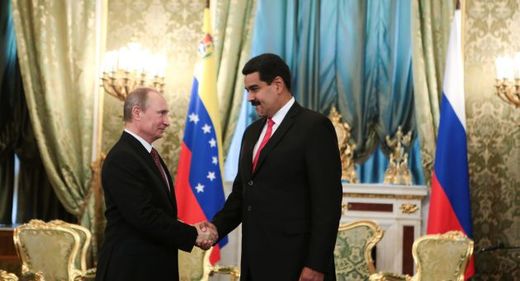 The Russian Foreign Ministry issued a statement Thursday in which it
voices its solidarity with the Venezuelan people against "Washington's aggressive build-up of political and sanctions pressure on Caracas" and "its democratically elected government."
"We are aware with great concern of the increase in negative tendencies and the destabilization attempts against Venezuela,
a country that is united with Russia by very close friendship ties and through a strategic association
," the Russian foreign ministry said in press release.
It stresses that the declaration of national emergency announced by the US government against Venezuela is "
a threat to democratic stability in that country
and can have serious consequences for the situation in Latin America as a whole."
Likewise,
it fully opposes "all forms of violence and coups as a tool to overthrow legitimate governments of sovereign states".

Comment: Russia may not have gotten the memo. Psaki says this isn't true. And Psaki never lies.



On Monday, the White House issued an executive order which declares Venezuela as an "unusual and extraordinary threat" to US national security and foreign policy.
Russia expressed its support for the initiative of the Union of South American Nations (UNASUR) to hold a meeting in the coming days to discuss the interventionist actions promoted by the government of the United States in the South American country.