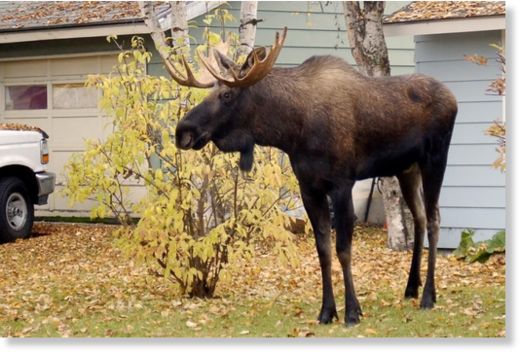 The popular ski resort town of Steamboat Springs is well-known for its hot springs, skiing festivals, and abundant moose population. Visitors are often warned to give the area's resident moose a wide berth, but sometimes the animals have ideas of their own. According to
CBS4,
a dog walker was injured on Sunday when she was trampled by a spooked moose.
The victim, who has been identified by Colorado Parks and Wildlife (CPW) as Katharine Hash, sustained serious injuries during the encounter and was later airlifted to a Denver hospital.
Witnesses told investigators that the bull moose had struck Hash from behind, despite having ample space to run around her, and some even said that the animal deliberately crossed the road to trample the dog walker.
"At this point, our best guess is something else happened on an adjacent property and caused the moose to run (into Storm Mountain Ranch), and for whatever reason it came across the woman and ran over her," CPW wildlife manager Jim Haskins told the
Steamboat Pilot.
"Whatever happened probably didn't have anything to do with the dogs."
Hash later told investigators that she did not know the bull was nearby until she turned around at the last second and was headbutted by the animal. Getting hit by a moose running at full speed is not unlike getting hit by a truck, and Hash suffered multiple facial and skull fractures. Despite the injuries, Hash has since been released from the hospital and is now recovering. Conservation officers were able to track the animal to Emerald Mountain, even picking up shed antlers that are believed to belong to the bull. CPW spokespeople say that it is the policy of the department to euthanize moose that aggressively attack humans, but also added that officers have a low probability of locating the animal.
It is not the first time the CPW has been on the trail of an unruly moose. Hash's encounter marks the fourth moose attack in the Steamboat area since 2013,
and also the fourth dog walker to be confronted by one of the large animals.
"In the wake of several people being injured by moose [in 2014], Colorado Parks and Wildlife is reminding outdoor enthusiasts that moose can be aggressive when dogs and humans get too close. Since early spring, wildlife officers have responded to three human/moose conflicts, including two recent incidents in Grand Lake. In all three instances, dogs—both on and off-leash—reportedly spooked the moose before it charged and seriously injured the dog's owner." stated the CPW on its
website.
"Moose in Colorado have very few natural predators and they are not generally frightened by humans. However, state wildlife officials caution that the large ungulates see dogs as a threat due to their similarities with wolves, their primary predator. Wildlife officials caution that dogs should never be allowed to approach a moose."