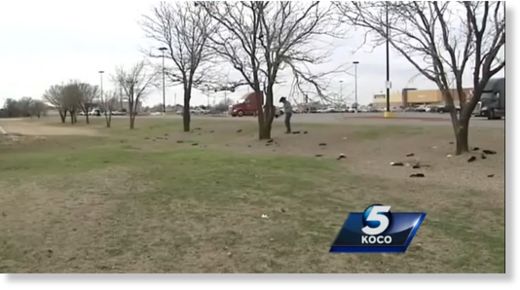 Hundreds of dead birds were found in an El Reno parking lot.
El Reno citizen Janince Wodrings told Passoth she like to watch the birds fly around near the Walmart on Country Club Drive just off I-40.
"Have you ever seen a school of fish? They will swirl and swoop, well that's the way the starlings look," Woodring said.
In the evening, they cover every tree and telephone wire. Most fly away during the day. That is when it is obvious that something is wrong. Friday morning, there were hundreds of dead grackle and starlings.
Some of the dead birds were stuck in the trees, others fell to the ground.
"I've lived in Oklahoma all my life and I've never seen anything like this,
" said Joel Seymour, a truck driver, who stopped in the Walmart parking lot.
"Just strikes you as odd. I don't know what is going on," Seymour said.
"It does bother me that nobody comes out here and cleans it up because little kids drive by," said Woodring.
Not far from the dead birds, there are corn kernels scattered on the grass. It could be what's killing them. The U.S. Department of Agriculture issues permits to poison certain migratory birds if they become a nuisance. However, they say no permits were issued in the area.
They reported they were not aware of this problem until KOCO 5 called. USDA Wildlife Services is now investigating. They also cleaned up the dead birds.