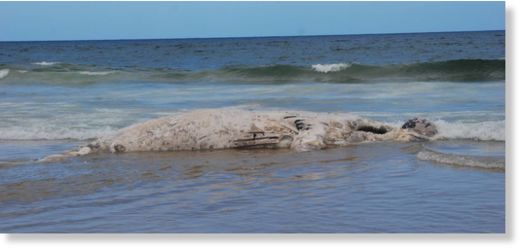 Two Eurobodalla beaches were closed for 24 hours over the weekend after a Humpback whale washed onto the shores of south Broulee Beach.
The dead whale was first spotted 300 metres out to see off North Head Beach, forcing lifeguards to close to beach for swimmers safety.
Around mid-day on Saturday the whale was found washed ashore on South Broulee Beach, which was then also closed.
Police attended the scene and taped off a 100-metre exclusion zone around the whale to keep onlookers away.
The whale looked as though it may have been dead for some time and had large chunks missing from its body.
A council spokeswoman said it was not the same whale that was towed out to sea by a fisherman after it washed onto the rocks at South Broulee Beach on January 7.
The spokeswoman said council staff buried the dead whale carcass on Saturday afternoon.
"Council staff buried the carcass in the dunes well away from Broulee Surf Club," she said.
"The hole was dug with an excavator and the carcass was secured with chains and pulled up from the beach."
It took the council staff six hours to move and bury the dead whale.
"It (burying the whale) was complete by 10pm," the spokeswoman said.
Both beaches were reopened on Sunday.
This is the third dead whale to be found on Eurbodalla beaches this summer.