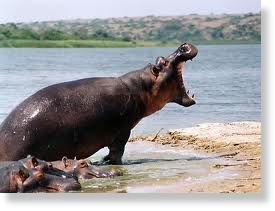 A hippopotamus attacked and killed a womanin the Vwaza WildlifeReserve early Tuesday morning where she had gone to fish in Lake Kazuni.
Rumphi Police and Vwaza Wildlife Reserve official confirmed the incident in separate interviews and identified the deceased as Dorica Banda, 36, from Chauluntha Village in the area of Traditional Authority Mpherembe in Mzimba District.
Rumphi Police Spokesperson Victor Khamisi said the deceased was among a group of poachers who had gone into the protected area to fish.
"While they were casting their nets,
a hippopotamus suddenly emerged and charged at them before it went for Banda, who was at the time in the water, and attacked her.
"When she shouted for help, the rest of the group ran away, leaving her at the mercy of the beast," Khamisi said.
He said one man who had accompanied her to the lake stood by her and confronted the beast until it released her.
"However, the beast had already bitten her severely on the right thigh and left arm. Her rescuer and another well wisher took her to Thunduwike Health Centre where, unfortunately, she was pronounced dead on arrival.
"Medical report issued by the health centre concluded that the deceased had died from severe loss of blood as a result of injuries," Khamisi said.
Khamisi further said the deceased was a daughter in-law of Group Village Headman (GVH) Chauluntha Mkandawire.
Vwaza Wildlife Reserve Deputy Manager, Jonas Luhanga also confirmed the incident. He said he was informed later in the morning by a messenger of GVH Chauluntha Mkandawire.