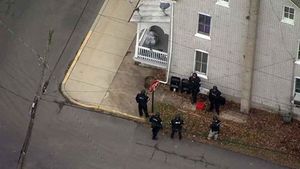 A suspect in five killings barricaded himself inside a suburban Philadelphia home on Monday morning, several local media outlets reported.
Police had discovered the bodies of five people in three separate locations, WPVI television and other media reported.
The suspect,
believed to be a military veteran
, was holed up in a home in Souderton, Pennsylvania, about 35 miles north of Philadelphia, WPVI reported.
A shooting was first reported at about 4:00 a.m. EST in Lower Salford, where police found a woman shot to death, local media reported.
Police responded to a second call about half an hour later to find two other people shot and killed in Lansdale. Two further people were found dead in Souderton.
Local police in Souderton, Lower Salford and Lansdale said they could not immediately confirm the shootings or status of the suspect. All three towns are Philadelphia suburbs.