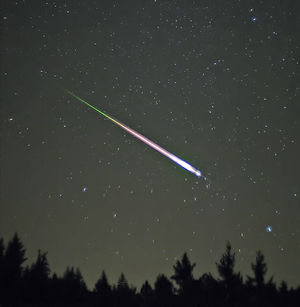 More than a dozen reports were received Thursday evening by 11Alive News and by the American Meteor Society of a fireball over parts of metro Atlanta.
The reports began coming at about 9:30 p.m., with reports from the city of Atlanta, Alpharetta, Dalton, Johns Creek, Austell, Senoia, Lagrange, Loganville, Powder Springs, Villa Rica, and as far away as Macon.
Most of the reports described a flame-like tail on the meteor. No sound was heard from those reporting what they saw.
Astronomically, the Leonid meteor shower generally occurs every year between the 5
th
and the 30
th
of November, with a peak of November 15 to November 20. Meteors associated with this shower are generally tied to the passage of Comet Temple-Tuttle.
.