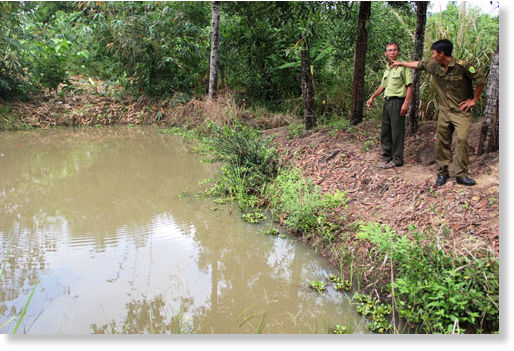 A wild boar allegedly gored a 15-year-old boy to death and injured another woman in a village in central Vietnam on Saturday.
Nguyen Ngoc Tuan, police chief of Khanh Hiep Commune in Khanh Hoa Province, told Thanh Nien the incident may have taken place around 3:30 pm when Nguyen Van Dai, 15, was fishing at a pond in Hon Lay Village.
No one saw what happened but by the time local residents found Dai, he was already dead in the pond with multiple injuries to his thighs, groin and hips.
Tuan assumed that the boar attacked Dai, who tried to flee but instead fell into the water.
Around 100 meters away from the pond, Truong Thi Canh, 49, was found lying near a forest with serious injuries to her thighs.
After being taken to hospital, Canh recovered and said she was attacked by a black wild boar when she was herding cows.
"The boar gored me first, and then bit me," she recalled.
Canh is in stable condition after undergoing a surgery.
Khanh Hiep Commune authorities have called on local farmers to work in groups and bring weapons with them to cope with possible attacks from the wild boar.