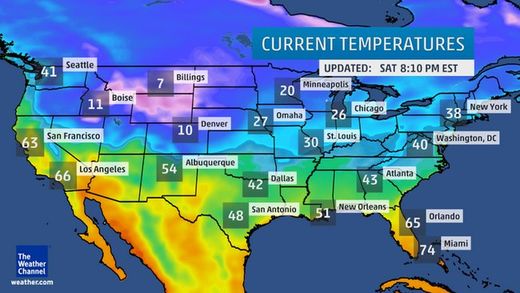 Arctic air is now firmly entrenched over much of the nation's mid-section, Northwest and, finally Northeast, sending temperatures crashing to values you might expect in mid-winter in some areas.
Here are some cold notables so far:
- Burlington, Colorado, on the eastern Plains near the Kansas border, dipped to -10 Thursday, setting a new record low for the month of November.

- Casper, Wyoming, dipped to -27 at 11:59 p.m. Wednesday night, shattering their all-time November record low of -21 on Nov. 23, 1985 (records date to 1939). The temperature stayed at -27 at midnight Thursday, making it the new record low for Nov. 13 as well. Previously, the soonest Casper plunged to -27 was on Dec. 5, 1972. Casper's high of 6 on Nov. 11 was the record earliest single-digit or colder high temperature there. (On Nov. 15, 1955, the high was only -3 degrees). Wednesday, Casper only managed a high of 3 degrees!

- Denver's high of 6 on Nov. 12 was the coldest daily high so early in the season. Only three other November days had daily high temperatures colder in Denver, dating to 1872. Early Thursday morning, Denver chalked up a bone-chilling -14 degrees, easily the coldest temperature so early in the season. (Nov. 17, 1880 was the previous earliest such cold reading in Denver.)

- Livingston, Montana, dipped to -21 Wednesday, their coldest so early in the season. That said, they once dipped to -31 degrees just one day later in the calendar, on November 13, 1959.

- Riverton, Wyoming had a daytime high of 0 degrees Thursday.

- In the Southern Plains, Amarillo (21), Lubbock (27), Childress (29) and Goodland (14) all set their coldest daily high temperatures on record for so early in the season on Wednesday.
Next, we'll hit some cold highlights in both forecast highs and lows, then ask how long this will last.
Highs through early next week should hold in the teens or 20s in the northern Rockies, northern Plains and Upper Midwest. Some areas of the northern Rockies and High Plains may struggle to rise out of the single digits at times.
Daytime highs in the 30s and 40s will be the rule in parts of the Ohio Valley, northern Tennessee Valley, southern Appalachians and Northeast. The exception appears to be Tuesday and Wednesday, where 30s and even some 20s are possible for highs. This second shot could keep highs -- yes, highs -- below freezing as far south as Tennessee on Tuesday.
Only a brief relaxation of the cold in the southern Plains and Southeast is expected this weekend before reinforcing arctic cold plunges south again.
Some of these daily high temperatures will be more on par with
average January highs
, rather than November.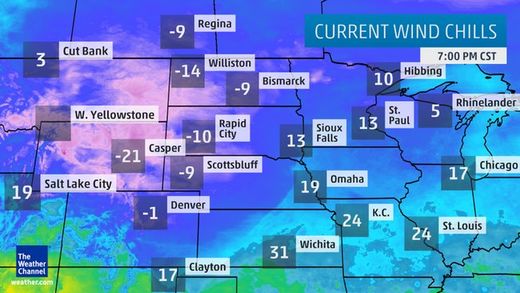 Forecast Low-lights
Subzero cold is expected to be most widespread in the fresh, snow-covered areas of the northern Rockies and High Plains. A few areas that received heavy snow from
Winter Storm Astro
in the northern Plains and Upper Midwest may also dip below zero, as well.
Overall, single-digits and teens are possible into the central High Plains of eastern Colorado, western Kansas and the panhandles of Texas and Oklahoma, as well as other parts of the Upper Midwest. Those very cold readings will become more widespread in the central Plains and Mississippi Valley Monday and Tuesday morning.
Lows in the 20s will plunge deep into the southern Plains, Deep South and spread into the Ohio Valley and Tennessee Valley. The 20s will also spread into parts of the East as far south as the coastal plain of the Carolinas this weekend, then again Tuesday through Thursday.
How Long Will This Last?
European (ECMWF) model forecasted coldest air a few thousand feet above the surface (850 millibars) from Nov. 14-21, 2014.
Above is a European model forecast loop through late next week depicting where the coldest air will be.
With blocking high pressure aloft over eastern Alaska and northwest Canada, a direct pipeline of cold air will come from Siberia to near the North Pole, then southward into Canada and the U.S., particularly the Plains and Midwest. While not nearly as cold in magnitude, the arctic surges will also sweep into parts of the East.
This is a classic Arctic outbreak pattern that will remain largely locked in over these areas into next week.
Here is the general forecast timing of each arctic cold surge, and when the coldest air may ease:
- Current arctic surge: Spreads into the East through Saturday

- Second arctic surge: Plunges down the High Plains and Rockies through the weekend.

- Third arctic surge: Arrives in Northern Plains, Upper Midwest Sunday, then sweeps into the Ohio Valley, Deep South and East next Tuesday and Wednesday. For parts of the mid-Mississippi Valley, Ohio Valley, Tennessee Valley and the Middle Atlantic States, this could be the coldest of the surges with numerous daily record lows threatened.

- Cold relief: Possible later next week at least for the Rockies, central/southern Plains and South. Another cold surge may plunge into the Upper Midwest, Great Lakes and Northeast late next week.
Forecast highs in the Twin Cities
will be stuck in the 20s, at best, through much of
next
week. This will rival the longest November subfreezing streaks on record there (see graphic at right). Some of those days will see daytime highs colder than their climatologically coldest average highs in January (23 degrees).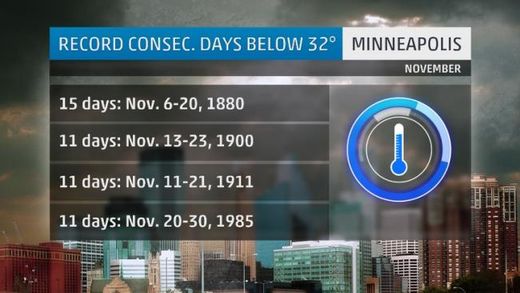 According to the National Weather Service,
Chicago
has only seen six other stretches below 40 degrees so early in the season, last occurring from Nov. 11-17, 1997. The Windy City may not see 40 degrees until next weekend.
After highs topped out near 80 degrees in
Dallas
Monday, highs into at least the middle of next week will do no better than the 50s. In fact, a few days may not see highs get out of the 40s, there. For reference, average highs in Dallas during the coldest time of year (late December into early January) are in the mid-50s.
Oklahoma City
may not see the 50-degree mark until sometime later next week, after soaring to 80 degrees Monday. Their average high in early January is 49 degrees.
Given this cold air in place, we will keep a close eye on any jet stream disturbance rippling through. Each has the potential to produce snow, sleet or freezing rain.