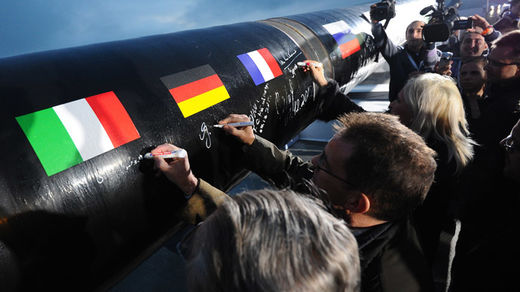 The Hungarian parliament has approved a law on Monday which allows building the South Stream gas pipeline without approval of the European Union. The European Commission has already demanded an explanation from Hungarian authorities.
The European Commission's spokesperson said at a press briefing in Brussels on Tuesday that the EC was in contact with Hungarian authorities to get an explanation for their decision.
The law was passed with 132 votes in favor and 35 votes against, allowing a company to construct a gas pipeline even if it doesn't have the licenses needed to operate it. According to the new law the only requirement for a company which wants to take part in construction is approval from the Hungarian Energy Office.
"
This is meant to give a boost to South Stream and is to show Russia that Hungary is taking the project seriously,
"
Attila Holoda, an expert on energy regulation, said as cited by Bloomberg.
South Stream is
"
extraordinarily important
"
for Hungary because it enhances the security of gas supplies to the country,
Janos Lazar, the Minister in Charge of the Prime Minister's Office, told reporters on October, 22.

Comment: The EU Commission has lost touch with reality in trying to please the US. Hungary however knows that without energy, no energy, no jobs, no money. Not wanting to be another failed state with unrest, they have wisely opted to defy the technocrats in power in Brussels.


The South Stream gas pipeline was projected to deliver gas to south and central Europe via the Black Sea and the Balkans, bypassing Ukraine.
The project, with a capacity of 63 billion cubic meters of gas a year, is seen as critical for European energy security.
Ukraine has been an unreliable transit country, and building a new pipeline is could result in avoiding numerous risks.
The South Stream would run across Bulgaria, Serbia, Hungary, Austria, and Slovenia before entering Italy and Greece. The crisis in Ukraine has made the South Stream project a political issue rather than a legal debate. The EU Commission has been pressuring member states to stop the building of the pipeline. Last year it started an investigation claiming the project contradicted the European Union's Third Energy Package regulations.
Bulgaria and Austria have temporarily suspended the project but are leaving it on the table.