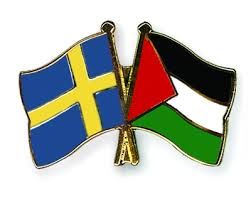 Sweden is set to officially recognize the state of Palestine on Thursday in a
move that will make it the first major European country coming up with this decision
, the country's Foreign Minister Margot Wallstrom said.
"Today the government takes the decision to recognise the state of Palestine," Wallstrom as quoted by Agence France-Presse.
The minister also added that this decision will serve as an important step "that confirms the Palestinians' right to self-determination".
The intention to recognize the state of Palestine was first announced by Swedish Prime Minister Stefan Lofven in his inaugural address to the parliament on October 5.
In 2012, the United Nations General Assembly by a majority of votes upgraded the Palestinian Authority from an "observer entity" to a "non-member observer state" and affirmed the Palestinian people's right to self-determination on the territories of the Gaza Strip and the West Bank including East Jerusalem, occupied by Israel after the 1967 war.
The Israeli authorities refused to recognize the resolution
and condemned the Palestinians' address to the UN as a unilateral move running counter to mutual agreements and hampering the peace process.
In mid-October, members of the House of Commons backed a symbolic motion on Monday to recognize Palestine as a sovereign state alongside Israel.