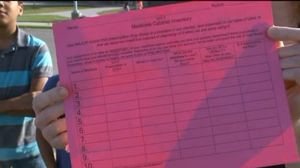 A junior high homework assignment has drawn strong criticism over its violation of privacy.
Fox13
reports, students at a Mapleton Junior High School in Utah County were given an assignment by the Health teacher to
take inventory of their family medicine cabinet and turn in a list of what they found.
The assignment explained that a major reason for drug abuse in Utah County is people are not safely disposing of medications. Students were to write the names of the medications in the medicine cabinet, what the medication is being used for, and whether it was still being used.
Parent Onika Nugent was bothered by the assignment and posted her feelings to Facebook, and sent a letter to the teacher and principal.
A portion of the letter she sent to school officials read: "I said, 'Although it may be a good idea for parents to do an inventory of their medicine cabinet,
I believe it is inappropriate for students to counsel their parents, or report to the school what that inventory is. It is a complete invasion of privacy.' "
The assignment was found to be created solely by the teacher, and not part of the standard curriculum.
Nebo School District officials said the assignment was a violation of privacy, and also state HIPPA laws, reports
KSL
.
"This was an innocent mistake," said Lana Hiskey with Nebo School District. "It was part of a health unit. (The teacher) wanted parents to know how to clean their medicine cabinets."
"(Teachers) create their own lesson plans every day, so something like this can slip through without someone else knowing it," Hiskey said.
The first-year teacher who assigned the project is described by Hiskey as one who teaches with enthusiasm and wanted to "send home meaningful homework."
"We want all parents to know this is not an acceptable assignment
," Hiskey said.
Hiskey added that the school district appreciates the parent's concerns.
"Sometimes we're blindsided, we don't know if a teacher is giving something out that they shouldn't be doing," Hiskey said. "And so we absolutely want parents to come forward, let us know....
I wouldn't be comfortable having my own children go through my medicine cabinet."
Deidre Henderson, State Senator for the 7th District in South Utah County, was made aware of the controversial assignment.
"They're attaching drug abuse with, 'Hey, tell us all the prescription drugs you may be on,' " Henderson said. "There is a shame and a stigma that is attached to that for kids who may be taking prescription medications."
Henderson views the teacher as having good intentions but the assignment "missed the mark."
"So this is a health teacher with good intentions, really well-meaning, but misguided in what she thought was appropriate in an assignment given to kids," Henderson said.
Nebo School District has met with both the teacher and concerned parents, and they are confident an assignment like this will not be administered again.