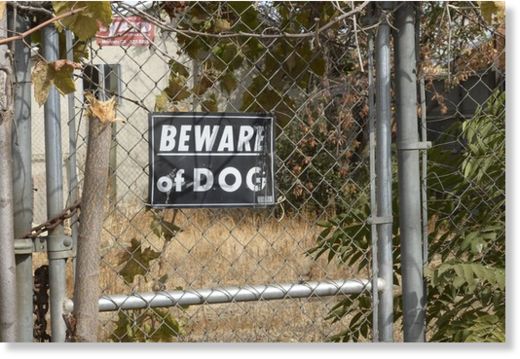 Vicious dogs roaming the streets, chasing people and trapping them inside their homes is a common complaint from residents in southwest Modesto, according to police.
In response, the department's animal control officers partner with the Stanislaus County Animal Services Center to conduct regular sweeps of the area, as well as the airport neighborhood, which also has a substantial stray dog population.
The sweeps often result in fines, but the issue has the potential to become criminal.
Animal control officers who alternate between the east and west portions of south Modesto have caught upward of 250 dogs since starting the sweeps a year ago, said Modesto police spokeswoman Heather Graves.
The last operation in the airport neighborhood, on Friday, resulted in the apprehension of 25 roaming dogs, and 22 were caught in southwest Modesto the month before. Dozens of people have been cited for offenses ranging from unlicensed or unvaccinated dogs to leash violations.
The problem turned fatal Tuesday night when four pit bulls mauled a man and his mother at their Glenn Avenue home in south Modesto, killing him and leaving her in critical condition.
Sheriff Adam Christianson said the dogs' owner has been identified and is cooperating with police. He has not said what charges, if any, the owner will face.
Other dog attacks this year have resulted in administrative citations for violating ordinances related to owning vicious dogs, licensing and vaccination.
A woman walking her dog in central Modesto in January was attacked by two pit bulls when she attempted to protect her dog from them. Two weeks later, a woman suffered major facial injuries when she was mauled by a pit bull in west Modesto.
Both owners surrendered their dogs to animal control for euthanization. Neither was charged criminally.
Serious charges
Across the country, though, owners of attacking dogs have been successfully prosecuted on charges as serious as second-degree murder, said Kenneth M. Phillips, a Los Angeles-based attorney and creator of dogbitelaw.com.
He represents the three children of
a woman who was mauled to death by a pit bull in Stockton last year
in a civil suit against the owner of the property where the attack occurred.
The dog's owner was held to answer on charges of involuntary manslaughter and failure to control a vicious animal at a preliminary hearing in May.
A Southern California man was sentenced to 15 years to life in prison earlier this month for
the mauling of a woman by four of his pit bulls. His dogs had been involved in previous attacks.
Christianson has not indicated whether there was a pattern of vicious behavior from the dogs in Tuesday's attack. It was the first time county animal control officers had responded to the victim's house for any issues related to dogs, and the only dog call on Glenn Avenue in the past six months was for a bite by a small poodle, said Annette Patton, director of the Animal Services Center.
Still, Phillips said, "There is definitely a criminal angle."
"You have four pit bulls, pit bulls are known to be dangerous, dogs in a pack are known to be dangerous and it's illegal for them to be out," he said. "This would be like owning four loaded guns, and if you have four loaded guns, you don't leave them out, you lock them up."
Sweeps to continue
Patton said her agency works to address all concerns related to stray dogs, such as those from
about 30 airport neighborhood residents who met with her recently to express concern about dogs that chase children on their way to school.
Animal control officers will continue sweeps through south Modesto, she said; taking dogs off the street and educating owners.
Dog owners are given 30 days to come into compliance with licensing and vaccination or will be fined.
"It's a fix-it ticket," she said. "All we want is compliance." The agency's compliance rate is about 52 percent.