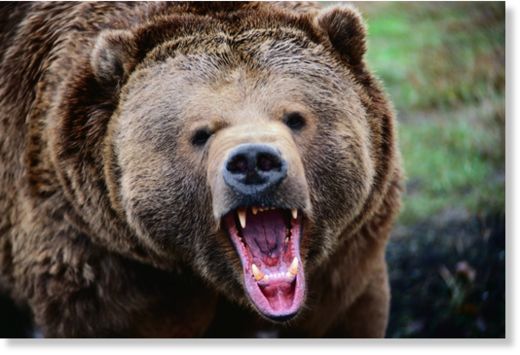 A grizzly bear bit a hunter in an attack in western Wyoming, sending him to a hospital with minor injuries, but officials said Monday they found no link
to a bear that killed a man earlier this month.
Two elk hunters surprised a female grizzly with two cubs Sunday just north of Dubois. The bear bit one of the hunters on the side, Wyoming Game and Fish Department Regional Wildlife Supervisor Jason Hunter said.
The bow hunters fended off the animal with bear spray before one was treated for minor injuries at a hospital in Lander. Their names were not immediately available.
Hunter said they did everything right by hunting in pairs and carrying bear spray. "The individuals knew what they were doing out there," he said.
In the other attack this month, a bear killed Adam Thomas Stewart, 31, of Virgin, Utah, a researcher whose body was found Sept. 12 in Bridger-Teton National Forest
after a five-day search.
The distance between the two attacks was unclear, but Hunter said there was no reason to believe the same bear was involved.
Investigators found signs of black and grizzly bears where Stewart's body was found. They planned to use DNA testing to determine which species was responsible for that attack.
Source: The Associated Press