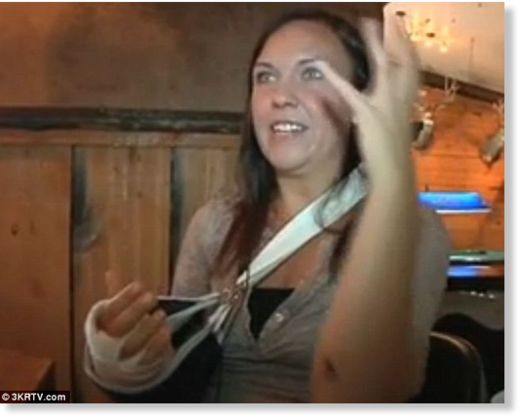 Otters have the popular reputation of being kind, playful and friendly animals, but one Montana woman found to her painful cost that this is not necessarily the case.
Sydney Sainsbury of West Yellowstone was 'viciously' attacked by an otter on July 9, leaving her needing serious medical attention, including an arm brace and eight stitches to her head.
Sainsbury was tubing on the Madison River
when she says she saw the animal about 20 feet away. She says that the animal then launched a sudden and unprovoked attack.
'It was just on me, it was just attaching itself to me and biting me so it was really hard to get it off of me and that was what was really scary was being mauled by like a rodent type animal that I was never scared of before,'
she told KRTV.
The otter was scratching and clawing at her legs and arms, but Sainsbury said that the 'powerful' biting on her head and face was the worst part of the incident.
The woman's friends were eventually able to fend off the attacker but Sainsbury required immediate hospital attention.
She now has pins in her broken hand and needed eight stitches to her forehead.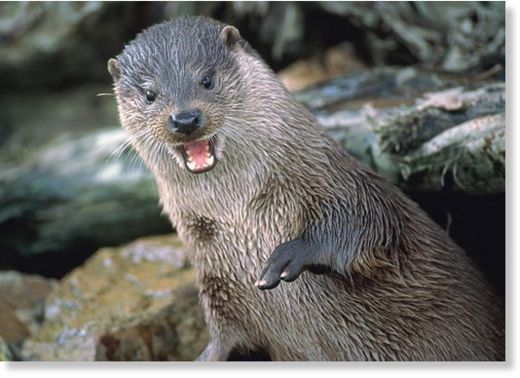 Sainsbury told KRTV that she now doesn't want to get into the water again, even though she grew up floating the river.
'There's nothing I could have done differently to protect myself or to not irritate the otter because I wasn't doing anything... It could happen to anyone,' she said.
Montana Fish, Wildlife & Parks put warning signs around Madison River warning of the danger that otters could potentially pose.
The FWP also put out a press release reading: 'While
otter attacks are extremely rare
, these are wild animals and they can be aggressive making it especially important for people to keep a safe distance from adults and their pups.'