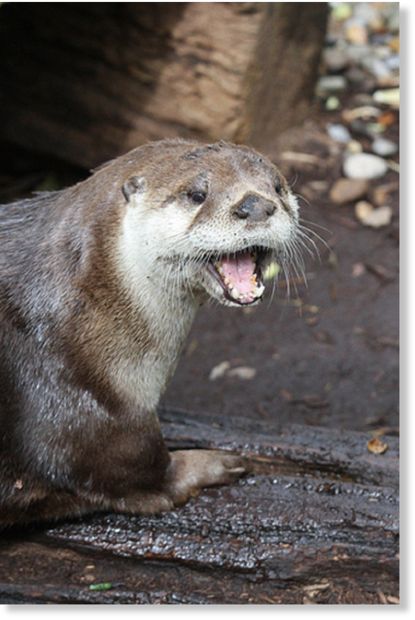 Zack Whipple, 9 of Polson was visiting grandma's house when he jumped into the cool water of Lake in the Woods northeast of Kalispell Aug. 4 and felt splashing underneath his feet that felt like fish swimming nearby.
Thinking little of the flipping fins below him, he climbed out of the lake and did a cannon ball off the dock above.
This time when he surfaced Zack spotted two adult otters who swam out from under the dock and began circling.
Zack was amused by the creatures as he watched them form their circle. He'd never seen otters. But amusement transformed into panic quickly
when the otters dove under water and bit his legs.
"I think I've seen otters before at the Animal Kingdom when I was five years old, but once they popped up I immediately knew they were otters," Zack said. "I sort of knew if I bothered them they would probably bite.""They got four good bites up one leg and another one on the other thigh," Zack's mother Kelly Whipple said.
Zack swam for the shore but saw a baby otter, so he changed course, waded into some reeds and climbed to shore, where his dog met him, then plunged into the water after the otter.
Zack's known Sunny, a big black labrador retreiver, since he was about three years old, and been swimming in Lake of the Woods since infancy.
"He (Sunny) only met me at the shore because he was being protective and he likes to chase otter," Zack said.
But Sunny's quick response stopped the otter attack immediately.
"He (Zack) got out of the water and his legs were all bloody,"
Kelly Whipple said.
Once on shore, Zach broke out into a whooping cough fit, revisiting the illness he'd just recovered from before the incident occurred.
"The first thing I did when I got there was call 911," Kelly Whipple said.
In addition to the obvious wounds on her son's legs, Whipple wanted to know if otter in the area carry rabies.
Thankfully, Zack's wounds did not require stitches and he is recovering at home with the help of antibiotics and several other tinctures to help ensure his wounds heal properly.
Kelly Whipple said she and her husband, a Big Fork doctor, chose not to pursue rabies shots after doing an extension amount of research on the subject.
"He did get a tetanus shot but we decided to forgo the rabies shot and went with antibiotics because we did a lot of research on it and found that there are no recorded otter with rabies west of the Mississippi," she said.
Kelly Whipple said that in the future, her son might be a little wary about swimming in Lake of the Woods. But that trepidation won't stop him.
"Next time I will for sure look and listen," Zack said. "But I will go back in."
Zack will return to a Polson private school in the fall with an awesome summer story to tell that will last for the rest of his life.
Montana Fish and Wildlife and Parks investigator Brian Sommers said the boy's attack continues to be under investigation but that the offending otters were not yet found.
"Last night FWP personnel searched the site of the attack but did not locate the otters," Sommers said in a prepared statement. "FWP will continue to monitor the situation."
Personnel also spoke to many neighbors about the situation.
Kelly Whipple said she wants other parents to know that the otter incident occurred but that she understands otter are wild animals and she hopes that people don't get over zealous about searching for problem otters.
Otters have occasionally been aggressive, Sommers said.
Recreationists should use caution around these aquatic members of the weasel family.
The Montana Department of Health and Human Services recommends seeking medical attention and contacting your local public health department if bitten by any animal.