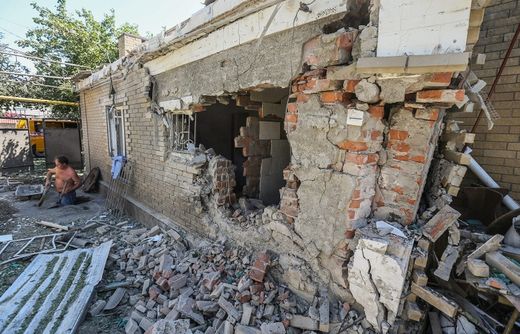 At least 11 have been killed in shelling of the Donetsk city in the east of the country by Ukrainian troops
, the city residents said on Thursday. Ten people were killed in a culture centre fire as a result of shell explosion. A repair worker of Ukraine's DTEK energy holding was also killed in the shelling.
The city's regional clinical hospital was grossly damaged
by fire from the Grad multiple rocket launch system late on Wednesday. The number of casualties is being ascertained.
According to local residents, the flights of surveillance drones precede Ukrainian troops' artillery strikes on social facilities. A day before the shelling they saw a drone hovering over the area.
The local residents fear that artillery fire from the airport area will again be aimed at a hospital.
Ukrainian aircraft have been flying over Donetsk since the early morning on Thursday. Eyewitnesses said a plane dropped a cargo for the Ukrainian security forces, blocked in the airport area and then was performing surveillance flights over the city.
The local residents expect new airstrikes on Thursday. They say the Ukrainian troops are very cruel during the Orthodox Christian holidays, and Thursday is Assumption Day.
During the night,
Ukrainian army's shelling destroyed apartment houses in two city districts and a civil registry office. One shell hit a city school, destroying it beyond repair
.
Information war is also waged against the city residents with spreading false reports in the social media, for example, that a shell hit again the city's main water purification facility, leaving it without drinking water. The information has been not confirmed. However, water supply has been restored not in all city districts.
The city also has major communication disruptions.
The city's Southern bus terminal runs international services, dispatching buses to Russia. In particular, the bus service to Rostov has been resumed.