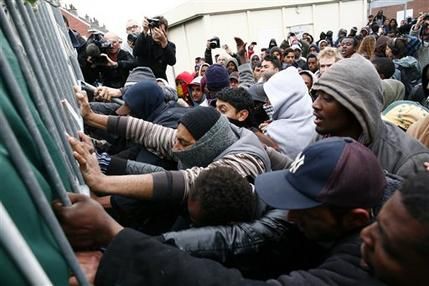 Migrants flowing into Europe in unprecedented numbers are causing a tense summer in France, as clashes break out among asylum-seekers in overcrowded camps and police fire tear gas to quell the chaos.
Sudanese and Eritreans battled in the heat in France's port city of Calais, frustrations rising as the Africans jockey for space while trying to sneak into Britain - the dream destination some 30 kilometers (20 miles) away.
British police were on site in Calais trying to make sure they don't cross over. Their French counterparts fired tear gas Tuesday to break up the latest of three battles that left 51 injured, one seriously, the Calais prefecture said.
Migrants fleeing poverty and war in Africa and the Middle East arrive in Calais with hopes of crossing the channel on a ferry or on trucks laden with cargo. Their numbers in the city at the edge of the English Channel have swelled to up to 1,300, overwhelming the city, aid agencies and police.
Up to 40 extra riot police were brought into Calais to start duty Tuesday night, bringing the number of police officers to 600, the city said.
"There are migrants who arrive each day and each day some who succeed in getting to Britain," said Deputy Mayor Philippe Mignonet, in charge of security. He refused to say how many migrants outsmart the scanners, CO2 detectors and other technology used on trucks and planted through the Channel Tunnel.
"Calais has been taken hostage," Mignonet said, blaming in part a Franco-British cooperation accord that he says puts the brunt of the burden on Calais. Like other officials, the deputy mayor complains that the British police presence effectively extends Britain's border to France.
Most migrants in Calais start the European portion of their treacherous Mediterranean journeys in Italy, arriving on boats in the island of Lampedusa. Last year, total arrivals in Italy tallied 42,000 - which was already surpassed by spring. With the year far from over, over 60,000 migrants have arrived on Italian shores.
Overwhelmed, Italy is increasingly waiving European rules to fingerprint migrants, allowing them to move on. Those looking to go to Britain often end up in Calais.
Britain is seen by many migrants as Europe's Shangri-La, with a more humane treatment of migrants than continental neighbors like France, where there are only 22,000 living units for some 60,000 asylum seekers.
Clashes among migrants are a new phenomenon.
Those Monday night and twice Tuesday were a culmination of a months-long tug-of-war between Calais and migrants. The city bulldozed makeshift camps in May. The migrants then occupied a food distribution center but were expelled. Now, authorities threaten to expel hundreds in two abandoned factories. Under pressure, the migrants turn on one another.
"There are lots of people, so there is lots more tension," said Noemie Bourdet of aid group Secours Catholique in Calais.
Migrants often are forced to pay small-time smugglers for a place in line in a parking lot where trucks leave for Britain. The clashes may have been over a place at a parking lot that didn't have smugglers demanding payments, according to Bourdet.
Within France, there is a divergence of views about how well Calais and France cope with the migrant issue.
"They expel them without solutions," said Bourdet of Secours Catholique, echoing the charge that Calais migrants have been reduced to a security problem.
Mignonet disagrees.
"It is a doubly catastrophic situation for us," he said, explaining that the migrants suffer and Calais suffers, too. "People only talk of Calais for its migrant problems ... This seriously hurts the city's image."