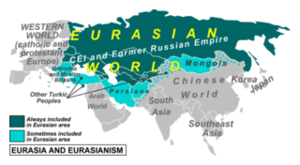 When it comes to the rise of Eurasia as the ascendent axis set to oppose US global hegemony, conventional wisdom focuses on the roles of China and Russia. However, the changing geopolitical landscape is certainly far more nuanced than merely the "west" versus the BRICS, and as the following
infographic from SCMP shows
,
China has been quietly working to recreate one of the most legendary trade routes, "
the Silk Road
", linking Africa to the Middle East (Iraq and Iran) to India, to Indonesia and all culminating in Beijing, while at the same time the reverse leg of the route goes to Kazakhstan, Moscow and ultimately, Germany. The purpose: "to enhance political and economic ties with southeast Asia and beyond."
As SCMP reports, China has set up a 10 billion yuan fund to support infrastructure projects under the umbrella of the silk road plan. Initially floated in relation to Asean countries, the idea has grown to include ports such as Colombo and Gwadar. China is already working with Malaysia to upgrade the Malaysian port of Kuantan and Cambodian officials have made clear their enthusiasm in developing port infrastructure.
Container port data compiled by the United Nations shows China is already the world's biggest merchant marine operator.
Around a quarter of the world's container tonnage passed through Chinese ports in 2012. The 155 million twenty foot equivalent Unites (TEUs) handled by Chinese ports dwarfs the 43 million handled by the second biggest operators, the United States. Customs administration figures show around 40,000 ships entered and left Chinese ports in the first half of 2014.
By naming the project the maritime silk road, Xi Jinping links the concept to the ancient sea routes piled by Admiral Zheng He in the 15th century. As head of a huge and technologically advanced fleet, Zheng He restored large-scale maritime trade after centuries of disruption, confirming China's status as the leading source of goods, technology and information for the rest of the world.
In June this year China's 2,400 year-old Grand Canal, which historically linked sections of the silk road, was awarded Unesco heritage status, as were large portions of the ancient overland silk road. The 11,179 kilometer Yunxinou International Railway linking Chongqing and Xinjiang with Europe and, commonly referred to as the "New Silk Road", runs alongside many of these ancient caravan tracts.
The message China is trying to send to the west by recreating trade routes that defined its dominance in global trade, and which would enmesh the entire eastern hemisphere into one massive trade zone, hardly needs to be clarified.
Infographic below: