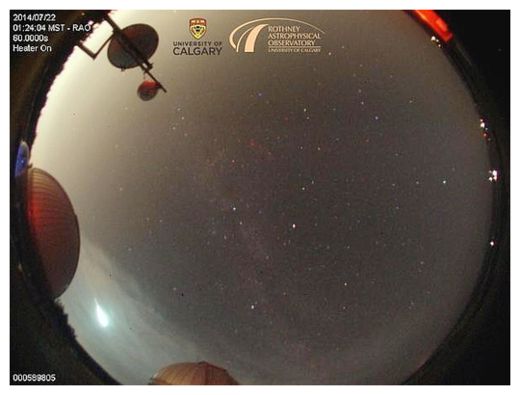 Some Albertans who were up early Tuesday were treated to a rare sight when a fireball lit up the night sky.
The Rothney Observatory reports that a fireball - which is larger than a meteor - was seen at 1:24 a.m. Tuesday.
"They're so bright that if you're standing, you'll see your shadow, just like in the daytime," said Dr. Phil Langill, who directs the University of Calgary observatory.
A meteor is a small rock from outer space that burns up as it enters Earth's atmosphere. Langill said a fireball is even larger.
"Essentially they're the same thing; it's just a matter of scale," he said.
Scores of people took to Twitter and emailed the Herald about the sudden flash of light.
Jesse Shan was on his south-facing Marda Loop balcony when he saw what appeared to be cloudless lightning just southeast of the city.
"I saw a massive flash to begin with; I was like 'woah,' " said Shan.
He saw a blue-white streak, followed by a burning orange orb that moved slowly, lingering for about five seconds before vanishing.
"It was almost like it entered through out of nowhere and then exited again. It's just ridiculous," he said.
Other Calgarians reported a green flash, comparing the sight with falling debris or a large shooting star. Rothney Observatory released a photo of a light-blue teardrop lighting up most of the night sky.
Langill said he guesses the rock was about a metre in diameter. He said that while space rocks vary in density, a grain of sand will produce less than a second of visible flame, while a basketball-sized meteor will net two to three seconds. A couch-sized rock can last up to 10 seconds.
Though it's impossible to estimate without multiple photos, Langill's guess is the fireball flamed out over an area between Calgary and Lethbridge. He said it's possible smaller fragments would have fallen to earth if the rock broke apart.
Sightings were reported some 450 kilometres north of Calgary.
"It was a huge flash of light and we thought: 'What the heck was that?' " said Athabasca resident Michael Borody. He also saw a flash from the southeast, and thought it was a firework. "It was too fast for anyone to get a photo."
Langill said current technology can't anticipate metre-wide meteors. While fireball sightings depend on size, cloud cover and population on the ground, he said they're probably seen about once a year in Calgary.
The fireball wasn't the only overnight space show for Alberta.
Jason Nishiyama, Calgary head for the Royal Astronomical Society of Canada, said watchers reported an iridium flare Monday at 11:30 p.m., just two hours before the fireball.
"Iridium flares are sunlight glinting off panels of the iridium communication satellites. They are quite bright," Nishiyama told the
Herald
in an email.
Alan Dyer, an astronomy writer who worked three decades with the Calgary science centre, said iridium flares are typical during summer's clear nights. Most are predictable based on the positioning of satellites used for GPS systems.
"You see them all the time; they're really common," he said.
As for the fireball, even professional skywatcher missed the five-second spectacle. Langill said researchers were working inside the observatory at the time of the fireball, but were glued to their screens.
"They kind of missed out," he said.