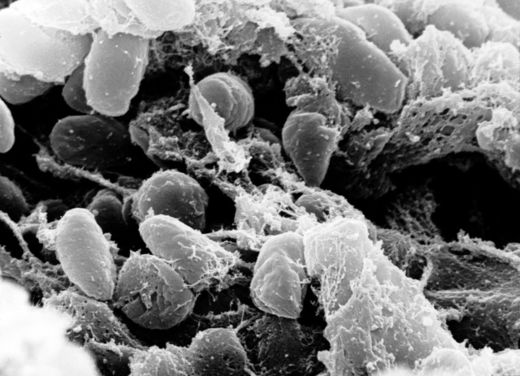 Three more plague cases were found in
Colorado
, a week after the first infection of the deadliest form of the disease was reported in the state in a decade.
The man initially reported with pneumonic plague on July 11 is hospitalized. Two of the new cases also had pneumonic plague, while the third had a milder form. All four cases may be linked to the original man's dog, which died from the illness, state health officials said.
The people newly-found to be infected were treated with antibiotics, recovered, and are no longer contagious. Health officials suspect the dog that died may been exposed to plague-infected fleas from a prairie dog or rabbit, said Jennifer House, a spokeswoman for the Colorado Department of
Public Health
and Environment department.
"We've had quite a number of cases this year," House said in a telephone interview. "We do believe the outbreak itself to be over."
Colorado has had 60 cases of all types of plague since 1957, and nine people have died. Twelve cases of plague have occurred in the past decade in the state. The state's investigation is ongoing, House said.
Western States
There are three main types of plague. Septicemic plague occurs when the bacteria proliferates in the bloodstream. Bubonic plague takes hold underneath the skin. Pneumonic plague, the most serious, can be spread through coughing and sneezing and occurs when the bacteria enters the lungs.
Plague in all of its forms usually infects an average of seven people yearly in the U.S., and is found mostly in the western states of
Arizona
,
New Mexico
and Colorado, according to the Centers for Disease Control and Prevention. The disease is transmitted by fleas, which pick up a bacterium called Yersinia pestis in infected animals such as chipmunks, prairie dogs, ground squirrels, mice and other mammals.
"While this is not a daily, weekly, or monthly occurrence, it isn't without precedence," said Jim Siedlecki, director of public information of Adams County, where the original victim lives, in a telephone interview. "A case of plague where fleas and prairie dogs are involved isn't earth shattering for Colorado."