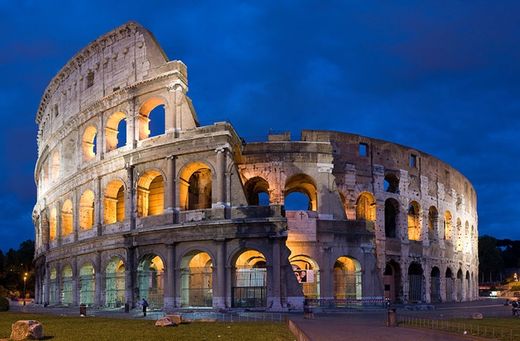 Forget gory shows and gladiatorial combat. In the late Middle Ages, Rome's Colosseum was a huge condominium, says the latest archaeological investigation into Rome's most iconic monument.
Archaeologists from Roma Tre University and students from the American University of Rome unearthed evidence showing that
ordinary Romans lived within the Colosseum from the ninth century until at least 1349
, when the building was seriously damaged by an earthquake.
During a three-week excavation beneath some of the arched entrances that lead into the arena, the archaeologists discovered terracotta sewage pipes, potsherds and the foundations of a 12th-century wall that once enclosed one of the properties.
"This excavation has allowed us to identify an entire housing lot from the late medieval period," Rossella Rea, the director of the Colosseum, said.
The unusual medieval condo also included stables and workshops.
Square feet inside the Colosseum were rented out as areas of housing by friars of the nearby Santa Maria Nova convent, who had taken control of the monument.
All houses and workshops opened onto the central arena where gladiators once fought.
"Indeed, that area was used as a common space," Riccardo Santangeli Valenzani, professor of medieval archaeology at Roma Tre University and the director of the dig, said.
Acting as huge courtyard, the arena buzzled with people, animals and goods.
There, the archaeologists found cooking pottery and an intriguing object: a figurine of a tiny monkey carved in ivory. Most likely, it was used as a pawn in a chess game.
An iconic symbol of imperial Rome, the Colosseum was built in A.D. 72 by the Flavian emperor Vespasian on the marshy bed of a drained lake.
Seating up to 50,000 spectators, the amphitheater was opened in A.D. 80 by Vespasian's son Titus with a festival that lasted 100 days and included gladiatorial combats, fights with wild beasts and naval battles, for which the arena was flooded.
Over the centuries, the Colosseum has survived three major earthquakes and disastrous fire. After the emperor Honorius prohibited the bloody gladiatorial combats in 404, the building fell into disuse and decay.
It was known that medieval Romans used it
as a garbage dump and a stone quarry
for the construction of such buildings as Saint Peter's Basilica.
The recent excavation has revealed another piece of the monument's history. And more has yet to be discovered.
"The dig will continue next year," Rea said.
Today the Colosseum is Italy's most visited monument, attracting nearly six million visitors a year.
It is currently undergoing a $34 million cleaning and restoration project, with the cost paid for by shoe and leather bag company Tod's. The first phase of the cleaning is scheduled to be completed on July 7, with the project expected to be finished in March 2016.