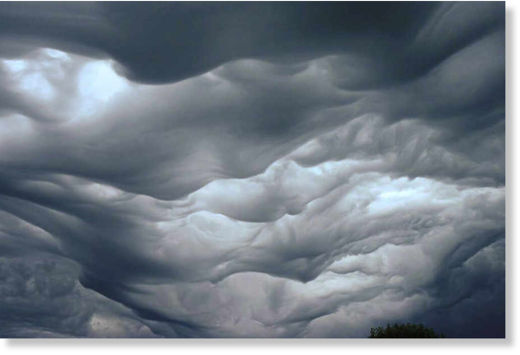 This was the scene above the Midlands today, as an unusual cloud formation brought thunder and lightning as well as torrential downpours to the region.
The "Undulatus Asperatus" clouds turned the sky dark during the unseasonal June weather. There were reports of localised flooding as heavy rain was interspersed with sunshine as the weather turned distinctly sour.
People were still recovering from Saturday's stormy weather when more storms hit Bridgnorth today.
The National Police Air Service, based at Halfpenny Green Airport near Bridgnorth, was set to be deployed to help to look for a missing person in the town. But the service had to be grounded due to lightning strikes around the airbase.
The storms also delayed the start of practice rounds for the PGA Euro Pro Tour at Astbury Hall Golf Course, near Bridgnorth.
There was also flooding in Albrighton, with one person taking to Twitter to warn people of trouble on the roads.
David Gregory-Kumar tweeted to say: "Flash flooding around Albrighton. Just had to drive through half a foot of water. Take care out there."
Over the weekend, about 7,000 lightning bolts were thought to have struck the country, containing an estimated 1.75million kilowatt-hours of energy.
The Met Office could not confirm the exact number of strikes but a spokesman said: "We were drawing up warm, humid air from the south, North Africa way, and at the same time we had low pressure coming in from the Atlantic. It's the combination of those two things that provided enough energy for the lightning strikes."
Lightning across the country hit at least three homes, including one in South Molton, Devon, which caught fire, while 18mm of rain fell in an hour at Santon Downham, in Suffolk.
But amid all the gloom there is also some good news - with the Met Office saying this summer could see the hottest average temperatures since 2006.
VisitEngland spokeswoman Angelah Sparg said: "Tourism businesses had a slow start to the year with the floods, so they will welcome the forecast of a good summer.
"Good weather is a great way to entice people out and about."
Unfortunately, though, thunderstorms and rain are expected to return during this week.