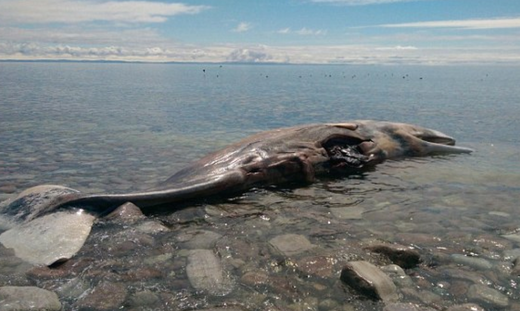 People living in Cape St. George, N.L., aren't sure what to do with a dead whale that's settled along their shoreline.
But the mayor of the west coast hamlet says letting the 12-metre sperm whale simply decompose is out of the question.
"We have people with houses reasonably close to it and the smell is the first thing you will encounter," Peter Fenwick said Tuesday. "Rotting marine fat is probably the most lousiest smell you've ever smelled in your life.
"It makes cod liver oil smell like perfume in comparison."
And then there are the clouds of flies it could attract.
"That's just intolerable for people, so it has to go," he said. "There's just no other way around it."
The massive mammal recently washed ashore in an area known as Marches Point, and Fenwick said it's up to the community to deal with the problem.
A local fishing boat turned out to be too small to tow the whale out to sea. Fenwick tried to sell the carcass on eBay, but the ad was taken down for violating a policy on animals and wildlife products.
Fenwick said at least two people have since expressed interest in removing the whale, which the town is now offering for free. He wasn't sure what they had planned for the carcass.
The federal Fisheries Department said in an email that it was not responsible for the whale because it is within the town's boundaries.
Trout River and Rocky Harbour, two communities located roughly 250 kilometres north of Cape St. George, recently reached a deal with the Royal Ontario Museum to retrieve the carcasses of blue whales that have been rotting along their shores. Nine of the endangered whales were killed in thick sea ice off Newfoundland's southwest coast last month.
Cape St. George's sperm whale is in good shape, said Fenwick, because it's been sitting in ice-cold water. But he said it appears as though someone sliced its belly open at some point.
Whale rescue expert Wayne Ledwell said it could take a couple of months for the whale to decompose naturally once it has been cut open, if the community was willing to put up with the stench.
"It'd be slippery and gooey, there'd be oil all over the place," he said from Portugal Cove-St. Philip's, N.L. "It would hiss in the process and it would smell."
Ledwell said the provincial government could be convinced to dispose of a whale carcass if one washes up in an unincorporated area, which is not the case in Cape St. George.
In addition to the deaths of the nine blue whales, about 30 white-beaked dolphins died earlier this year after becoming trapped in pack ice off Newfoundland.
Ledwell said though it has been a particularly bad year for blue whale deaths and heavy ice, the deaths of other whales or the white-beaked dolphins aren't unusual.