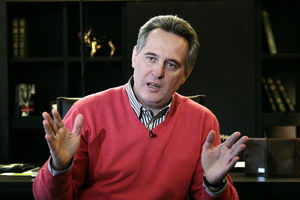 Dmitry Firtash, a Ukrainian businessman who amassed his fortune in Russia's gas trade, was indicted on U.S. bribery charges tied to a $500 million Indian mining project in a case he says is politically motivated.
Firtash, 48, allegedly conspired with five other men and met with Indian government officials as part of an effort to pay $18.5 million in bribes to facilitate the project, aimed at generating titanium product sales to firms including an Illinois-based company that wasn't identified in the indictment.
"Firtash was the leader of the enterprise," Chicago U.S. Attorney Zachary Fardon said yesterday in a statement.
The businessman, who is fighting extradition from Austria, may possess information about deals involving Russian state gas exporter OAO Gazprom (OGZD) that the U.S. would consider corrupt, according to Mikhail Korchemkin, a former analyst for the Soviet Union's Gas Ministry and founder of Malvern, Pennsylvania-based East European Gas Analysis.
That information might help U.S. lawmakers develop harsher sanctions against the inner circle of Russian President Vladimir Putin over Russia's annexation of Crimea, Korchemkin said. U.S. prosecutors said the arrest isn't related to the Ukraine crisis.
Fortune
Firtash, charged with the five other men, was arrested in Vienna last month and later freed on 125 million euros ($172 million) bail. His indictment last year by a federal grand jury wasn't made public until yesterday. Fardon said he controlled the international conglomerate Group DF.
Firtash built his fortune as a broker of Russia's gas sales to Ukraine, one of Gazprom's biggest export markets. He and a partner owned half of RosUkrEnergo, which was founded in 2004 and emerged as Ukraine's sole gas importer from 2006 to 2009, between price disputes with Russia that led to supply halts and shortages across Europe.
Gazprom oversaw the other half of RosUkrEnergo, which Ukraine's security service in 2005 said may be indirectly controlled by Semion Mogilevich, an organized-crime suspect on the Federal Bureau of Investigation's most-wanted list.
Firtash has repeatedly denied any link between Mogilevich and RosUkrEnergo. A lawyer for Mogilevich, who lives in Moscow, said his client has never been in business with Firtash.
Crimea Vote
Firtash was arrested March 12, only days before voters in the Crimean peninsula elected to secede from Ukraine and be annexed by Russia. He has pledged to stay in Vienna after his release March 21 until the end of extradition proceedings.
Firtash's deputy as chairman of DF, Robert Shetler-Jones, said there was no truth to the accusations, which were "an abuse of the Austrian justice system" for political reasons.
"It is not a coincidence that the U.S. is trying to extradite our chairman at the moment when Mr. Firtash is needed for the economic and political reconstruction of Ukraine," Shetler-Jones said in an e-mailed statement.
Firtash's attorney, former Austrian Justice Minister Dieter Boehmdorfer, couldn't immediately comment on the U.S. allegations as he hadn't read the indictment.
Firtash and the other U.S. defendants are each charged with racketeering and money laundering conspiracy, and interstate travel in aid of racketeering. Firtash and four of the other men are also accused of scheming to violate the Foreign Corrupt Practices Act, a U.S. anti-bribery statute.
Additional allegations include using threats and intimidation to advance the interests of their enterprise, Fardon said.
The men face as long as 20 years in prison if they're found guilty of the most serious charges.
Forfeiture Sought
The indictment seeks forfeiture of Firtash's interests in Group DF and its assets, which include 18 businesses registered in the British Virgin Islands and 127 companies registered in Austria, Cyprus, Switzerland, the Seychelles and elsewhere.
The government is also seeking to seize 41 bank accounts and, from all six defendants, a total of $10.6 million.
One of the Group DF businesses, Vienna-based Ostchem Holding AG, entered into a 2007 agreement with a Chicago-based business identified in the indictment only as "Company A" to supply it with titanium. The go-between for that arrangement was another DF Group affiliate, the Swiss firm Bothli Trade AG, prosecutors said.
Boeing Co., the world's biggest maker of satellites and aircraft, said in a statement last month that in 2006 it entered into a "memorandum of understanding" with Bothli to conduct a feasibility study on the potential for sourcing a product called "titanium sponge."
Plentiful 'Supplies'
"Boeing never pursued the MOU as supply became more plentiful and the MOU lapsed," John Dern, a spokesman for the Chicago-based company, said in the statement. "We have never done business with Bothli other than the activities associated with the MOU." Boeing isn't named in the charging papers.
Tim Neale, a Boeing spokesman, declined to comment on the allegations unsealed yesterday.
One of the men charged in the U.S. with Firtash, Suren Gevorgyan, was the head of trading and investment activities for Ostchem.
Gevorgyan said in an interview yesterday that Bothli never paid bribes to get permits because India was eager to receive Boeing's planned investment. Boeing broke off talks with Bothli after more than a year of negotiations and refused to cooperate further, Gevorgyan said.
"Then we learned that the FBI in 2006 launched an investigation into the Indian deal," he said. "For us, it was investment in the Indian economy and creating of important production willing to invest $1.5 billion, nothing else."
The case is U.S. v. Firtash, U.S. District Court, Northern District of Illinois (Chicago).