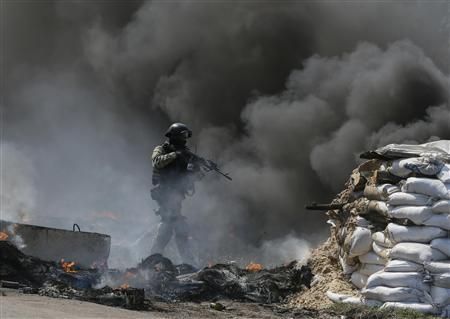 Ukrainian forces killed up to five pro-Moscow separatists in the east of the country, the Interior Ministry said on Thursday, as Russian President Vladimir Putin warned of "consequences" if Kiev used the army against its own people.
Interior Ministry forces backed by the army removed three checkpoints manned by armed groups in the separatist-controlled town of Slaviansk, the ministry said in a statement.
"During the armed clash up to five terrorists were eliminated," it said, adding that one person had been wounded on the side of government forces.
Under an international accord signed in Geneva last week, illegal armed groups, including the rebels occupying about a dozen public buildings in the largely Russian-speaking east, are supposed to disarm and go home.
However, the Kremlin, which has deployed tens of thousands of troops on Ukraine's border, maintains it has the right to protect Russian-speakers if they come under threat, a reason it gave for annexing the Crimean peninsula from Ukraine last month.
In St Petersburg, Putin said that if the authorities in Kiev had used the army in eastern Ukraine, this would be a very serious crime against its own people.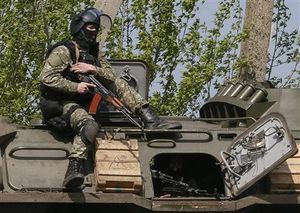 "It is just a punitive operation and it will of course incur consequences for the people making these decisions, including (an effect) on our interstate relations," Putin said in a televised meeting with regional media.
The Geneva agreement, signed by Russia, the United States, Ukraine and the European Union, is already in trouble as Kiev launches its offensive to regain control of the east.
East and West have put the onus on each other to ensure the accord is implemented on the ground. U.S. President Barack Obama said earlier he was poised to impose new sanctions on Moscow if it did not act fast to end the armed stand-off.
Moscow also flexed its economic muscles in its worst stand-off with the West since the Cold War, with the government suggesting foreign firms which pull out of the country may not be able to get back in, and a source at Gazprom saying the gas exporter had slapped an additional $11.4 billion bill on Kiev.
Washington accuses Moscow of fomenting unrest in the east. Russia denies this and counters that Europe and the United States are supporting an illegitimate government in Kiev.
Obama said the Russian leadership was not abiding by the spirit or the letter of the Geneva agreement so far.
"We have prepared for the possibility of applying additional sanctions," he told a news conference on a visit to Japan. "There's always the possibility that Russia, tomorrow, or the next day, reverses its course and takes a different approach."
U.S. troops arrive in Poland
So far, the United States and EU have imposed visa bans and asset freezes on a few Russians in protest at Moscow's annexation last month of Crimea from Ukraine.
In NATO member Poland, the first group of a contingent of around 600 U.S. soldiers arrived on Wednesday. They are part of an effort by Washington to reassure eastern European allies who are worried by the build-up of Russian forces near Ukraine's borders.
Earlier on Thursday, Kiev forces with five light armored vehicles took control of a checkpoint north of Slaviansk after separatists appeared to abandon the position, Reuters journalists said from the scene.
The government said the city hall in another eastern town, Mariupol, which had been seized by separatists, was now back under central control. Interior Minister Arsen Avakov said the mayor was back in his office.
"In this instance there were no casualties ... The process of getting the situation back to normal in the city will continue," he said in a post on his Facebook page.
Kiev also reported a shootout overnight in another part of the east when a Ukrainian soldier was wounded, while pro-Russian separatists in Slaviansk were holding three journalists, including U.S. citizen Simon Ostrovsky.
Ukraine, a former Soviet republic, slid into unrest late last year when Moscow-backed President Viktor Yanukovich rejected a pact to build closer ties with Europe. Protesters took over central Kiev and he fled in February.
Days later, Russian troops seized control of Crimea. Moscow then annexed the region, saying it was protecting Russian residents, while the West called the action a land grab.
The focus has now shifted to eastern Ukraine, the industrial heartland and home to a large Russian-speaking communit
No way back?
With rhetoric building from the United States about the imposition of a new, tougher round of sanctions, Russia suggested on Thursday that Western firms which pulled out of the country may not be able to get back in.
"It is obvious that they won't return in the near future if they sever investment agreements with us, I mean there are consequences as well," Natural Resources Minister Sergei Donskoy told reporters.
"Russia is one of the most promising countries in terms of hydrocarbons production. If some contracts are severed here, then, colleagues, you lose a serious lump of your future pie," the minister added.
However, Western oil majors BP and Royal Dutch Shell were sticking with their projects in Russia, he noted.
Supplies of Russian gas to Europe are also, potentially, at risk from the crisis over Ukraine. Moscow has threatened to cut Kiev off unless it pays off its debts, and drastically raised this bill this week.
State-controlled Gazprom sent Ukrainian energy firm Naftogaz an additional bill on Wednesday of $11.4 billion, more than five times its previous claim, a source at the company said. This was in addition to the $2.2 billion that Naftogaz already owes for supplies in 2013 and 2014 so far.
Moscow nearly doubled the gas price for Ukraine from April but Kiev, which is in financial trouble, is refusing to pay.
If Moscow cuts off the flow to Kiev, this would have a knock-on effect on European customers further West, because many of the pipelines that deliver their gas run through Ukraine.
European and Ukrainian officials were to meet in Slovakia, which borders Ukraine, on Thursday to try to work out ways to mitigate the impact if Ukraine is cut off.
The options include reversing the usual east-west flow of the pipelines to Europe to pump gas back into Ukraine, but the volumes that could be supplied this way would be only a small fraction of the amount that Ukraine needs.
Unarmed mediators from the Organization for Security and Cooperation in Europe are in eastern Ukraine trying to persuade pro-Russian gunmen to go home, in line with the Geneva accord.
Reuters reporters have not been able to establish that any Russian troops or special forces members are in the region, though Kiev and Western powers say they have growing evidence that Moscow has a covert presence.
Putin has described as "nonsense" allegations that Moscow has its forces in eastern Ukraine. It says the unrest is a spontaneous protest by local people who fear persecution from the government in Kiev which it says is illegitimate and has far-right links.