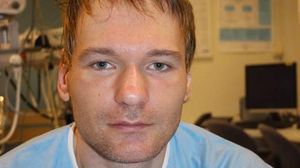 The amnesiac found lying in the snow beside an Oslo carwash has been identified by police, ending a four-month-long mystery.
Czech police have contacted the mystery man's parents a day after Norwegian officers released his photograph to the public.
"We were informed ... through Interpol that the Czech police had identified the man," said Oeyvind Torgersen from Oslo police.
"The Czech police went to his parents ... We know his identity."
Police have been referring to the man - who is aged in his early 20s - as "John Smith".
Despite the positive identification, Mr Torgersen did not reveal the man's real name.
The man, who speaks five languages, was discovered in last December and told police he had no memory of his identity.
He claims to have no idea how he came to be in Oslo. Nor does he know how he learned to speak five languages, including English with a heavy Slavic accent.
The man told the AFP news agency that he believes he was robbed and sexually assaulted.
"What apparently happened is that I was robbed. I was for sure sexually assaulted, and then I was thrown onto a street in Oslo," he said.
"What might have happened is that they took advantage of the fact that Europe has open borders ... and that they basically used Oslo as a garbage place to dump me."
Oslo police's violent and sexual crime unit has been put in charge of the investigation into the mystery man.
Police initially turned to Interpol and more than a dozen nations to compare fingerprints and DNA in an attempt to identify the man.
But they took the further step of releasing a photograph on Tuesday after all other leads failed.
The man said he does not think he came to Norway on purpose.
"I don't think I came to this country out of my own free well because I'm used to very different weather, a much warmer weather," he said.
"The weather here is basically hurting me."