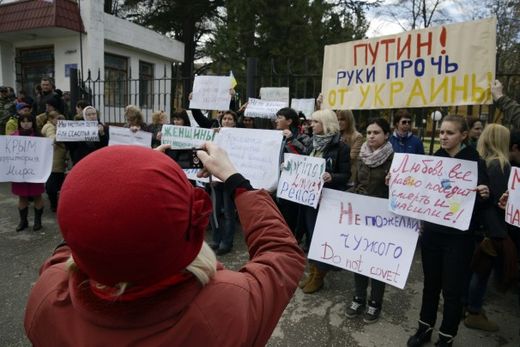 Russia broadened its war of words with the United States over Ukraine on Saturday when the Ministry of Defense said it would consider stopping international inspections of its nuclear weapons in response to threatened sanctions from the West.
"The unfounded threats towards Russia from the United States and NATO over its policy on Ukraine are seen by us as an unfriendly gesture," the ministry said in a statement distributed to Russian news agencies.
Those threats, the statement said, have created new circumstances, giving Russia the right to pull out of the inspections required under the START treaty with the United States and a separate agreement with the Organization for Security and Cooperation in Europe.
Russia, infuriated at the prospect of Western sanctions in response to its intervention in Ukraine's Crimean peninsula, has been making one threat after another in recent days, and it has been difficult to distinguish bluster from serious intent. The United States has been urging Russia to pull its troops back to its existing bases for the Black Sea Fleet, and not to annex Crimea.

Comment: Spin much? Russia has been pretty passive and cool headed about the whole thing. It's the western media that have been frantic.


State Department spokeswoman Jen Psaki said the Russian government had not yet notified the United States of a decision but was expected to uphold its treaty obligations. "We would take very seriously and strongly discourage any Russian decision to cease implementation of its legally binding arms control treaty obligations and other military transparency commitments," she said.
The escalating tensions between Washington and Moscow came amid indications that the Russian military presence in Crimea is expanding with every passing day. A convoy with dozens of Russian military trucks was spotted Saturday heading in the direction of an airfield near the Crimean capital, Simferopol, from the city of Feodosia in the east.

Comment: Mountain meet molehill. Where's the proof? You can't casually make that kind of accusation without showing some hard evidence.


Russia's Foreign Ministry added its voice to the dispute as well Saturday. "
The crisis in Ukraine was not created by Russia
," the ministry said in a tweet. "Moreover,
it was engineered deliberately despite our repeated warnings
."
In another tweet, the ministry quoted Foreign Minister Sergei Lavrov as saying, "Threats are made not only against officials in Kiev and Ukraine's regions, but also heads of Russia's regions bordering on Ukraine."
The implication was that the revolution in Ukraine that ousted President Viktor Yanukovych last month was stirred up and encouraged by the West and could spill over into Russia. Moscow has reacted with a campaign in the media suggesting that thugs from Kiev are about to invade the majority Russian-speaking Crimea. Troops in unmarked uniforms - who have told journalists they are Russians - have surrounded Ukrainian bases in Crimea.

Comment: It's not an implication when it's proven by a tape that the U.S. government has not bothered to deny is accurate. You planned and executed a coup d'etat, by your own admission. There is no implication.


The Crimean parliament has voted to join Russia and called a referendum for next Sunday to confirm the decision. Many ethnic Russians in Crimea consider a return to Russia the righting of a historical wrong done when the region was given to Ukraine in 1954.
Ukraine's acting foreign minister, Andriy Deshchytsia, told reporters Saturday that Ukraine will never cede its claim to Crimea
no matter what the outcome of the referendum
. Lawmakers in the Russian parliament have said they consider the vote legitimate, and they will support Crimea's return to Russia.

Comment: Democracy? No matter what the people of Crimea want, we won't give it to them. That's simply not democratic.


"Crimea is and will be Ukrainian territory and we will not give up Crimea to anyone," Deschytsia said.
Last week, President Obama ordered financial and visa sanctions against officials connected to the events in Crimea, setting off defiant rhetoric in Russia, where some legislators have called for the seizure of property belonging to Western businesses.
In a telephone call with U.S. Secretary of State John F. Kerry on Friday, Lavrov warned that any sanctions imposed on Russia would backfire, setting off sanctions in return.
"Lavrov has warned against hasty and ill-considered steps capable of causing damage to the U.S.-Russian relations," the Foreign Ministry said Friday, "especially sanctions that will inevitably hit the U.S. like a boomerang."
The Russian Foreign Ministry has accused the West of trying to draw Ukraine into closer association with Europe, and said that in so doing it is disregarding the real wishes of the Ukrainian people. "We have witnessed a chain of events that shows that no means are too dirty for our partners," one statement said last week. "The poorly cloaked attempts to turn a blind eye to the crimes committed in Kiev and in west Ukraine are accompanied by the close monitoring of the actions of the lawful Crimean authorities to independently choose a future for Crimea."
Kerry and Lavrov talked by phone again Saturday, saying they must keep the conversation going.
"The minister and the secretary agreed to continue intensive contacts in order to facilitate the resolution of the Ukrainian crisis," the Foreign Ministry said.
Russia has denied it is sending more troops into Crimea, but an Associated Press reporter drove behind a convoy of military trucks, some of which had mobile field kitchens in tow and what appeared to be medical equipment. Some of the vehicles had Russian license plates, and soldiers spat at the reporters following them.
Reports on Russian troop movements in Crimea are difficult to verify, in part because about 40 military and civilian observers from the Organization for Security and Co-operation in Europe were blocked from entering Crimea for the third day in a row Saturday as they traveled by bus through the Armyansk checkpoint. Tatyana Baeva, a spokeswoman for the OSCE, said the group was turned back by unidentified armed men who fired warning shots. No one was hurt.
Other confrontations have been more menacing. Late Friday night, masked men in one of the local militia groups that are blocking military bases tried to overrun a Ukrainian base outside Sevastopol. The intruders left without firing a shot. But Ukraine's Channel 5 television said its journalists were beaten by the pro-Russian militiamen as they covered the confrontation.
The instability in Ukraine in general, and particularly in Crimea, led the State Department to issue a travel warning Saturday advising Americans to avoid Ukraine for the time being.
In one of the day's few cordial exchanges, Ukraine's ambassador to Moscow, Volodymyr Yelchenko, met Saturday with Russian Deputy Foreign Minister Grigory Karasin. It was the first time that diplomats from the two nations had talked since the crisis began.
"Questions of Russia-Ukrainian relations were discussed in an open atmosphere," the Russian Foreign Ministry said in a statement, without providing further details about the meeting, which took place in Moscow.
Morello reported from Sevastopol, Ukraine. Isabel Gorst in Moscow contributed to this report.