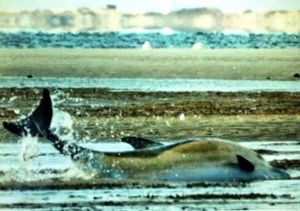 Five common dolphins - four adults and a calf - were found stranded this morning on Provincetown low-tide flats in the East End of town.
As of 9:50 a.m., one dolphin is dead but the rest are still live, said RuthAnne Cowing, Provincetown animal control officer.
The tails of three of the dolphins could be seen moving, according to a
Times
reporter on the scene, where the wind is blowing and it is
very cold.
The dolphins stranded off the intersection of Snail Road and Route 6A near the Harbor Hotel.
Rescuers with the Yarmouthport-based International Fund for Animal Welfare arrived at the stranding scene at about 10 a.m.
No further information is available at this time.