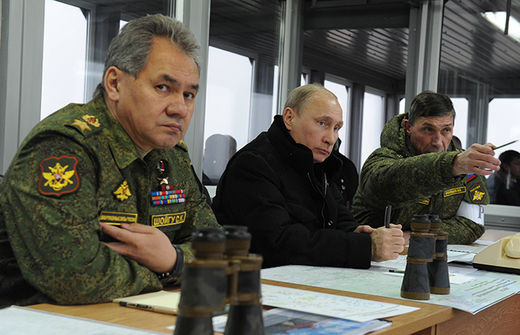 President Putin has ordered troops sent last week to a surprise military exercise in western and central Russia to return to their bases.
Putin ordered the return after a Defense Ministry report, which said the exercises have been conducted successfully, presidential spokesman Dmitry Peskov told the media.
The surprise military drills in Russia's central and western territorial commands were
launched
last Wednesday.
They involved 150,000 troops, 90 aircraft, 880 armor, 80 warships and other hardware.
On Monday the last phase of the drill was witnessed by Putin, who visited the Kirillovsk military range in Leningrad region in north-western Russia.
During the phase the 138th Mechanized Brigade of the Sixth Army of the Western Military District and the 104th Guards Airborne Regiment of the 76th Guards Airborne Division engaged in tactical war games. They demonstrated in the field their capabilities to maneuver and cripple enemy logistics, communication and control before a direct offensive.
The finale was somewhat spoilt by a heavy snow storm, which made a planned deployment of airborne troops too risky.
The exercises, which came amid a political crisis in Ukraine, were taken as a sign of a possible massive military incursion by some Russia watchers in the West.
Such drills, however, are called on a regular basis in Russia, with the previous one conducted in July in the east of the country.
Russia is currently under criticism from Western powers after the senate approved the sending of troops to Ukraine if needed to protect civilians from possible violence.
Moscow is concerned that radical extremists, who helped oust President Yanukovich and put in power the current self-proclaimed government in Kiev, may target regions in eastern and southern Ukraine, which refused to take orders from the new central authorities.
Western powers see the stance as aggressive and violating international law. Moscow denies the allegations, saying it is only concerned with protection of human rights in an unstable Ukraine and with the fate of ethnic Russians living there.