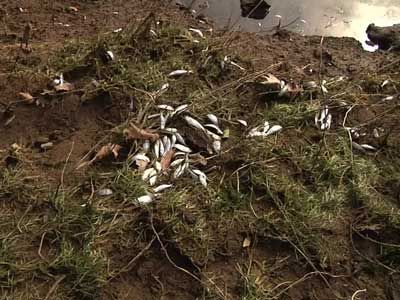 Tens of thousands of dead fish are now washing up on the shores of the Holston River in Grainger County. 6 News has been investigating this since viewer Chris Joyce first alerted us Monday morning by posting this photo on our Facebook page.The white spots in the picture are the fish. They are scattered downstream from Cherokee Lake, just off Tampico Road in rural Grainger County.
"It's just a shock to see it in your own backyard," Joyce said. After seeing thousands of dead fish near his home, Joyce turned to 6 News for answers. "I got to looking. There was a lot on the water, a lot on the banks. I took pictures of it and sent it in. This is the first time I've ever seen anything like this," Joyce said.
We took Joyce's concerns to TWRA spokesman Matt Cameron, who came out to investigate. He says the dead fish are all the same type, called threadfin shad. "From what the biologists are telling me, these are reservoir species, meaning these didn't originate from the river. They had to come from the lake above the dam," Cameron said.
They can be seen washed up on shore and floating in the Holston River below the Cherokee Dam. "We're about four miles below the dam here, and we've got reports of at least two miles downstream this location," Cameron said.
He says it's the unusually cold weather killing the small fish. "They only tolerate a lower temperature of about 40 degrees. Once the water gets that cold or colder, and stays that cold, they can't survive," Cameron said.
While the dead fish are shocking to look out, Cameron says it's not really an environmental concern because it's only one type of fish that are dying. "Which is a good sign, because if we had multiple species of fish we would have a real problem here," Cameron said.
Because of the cold temperatures, it could be awhile before the fish decompose, but Cameron says many of them will be eaten by birds and other fish before that happens. They do see similar cases like this when it gets cold.